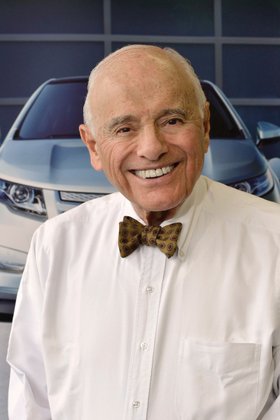 Sidney M. Greenberg
unknown - June 6, 2013
Sidney M. Greenberg, 86, passed away at his Cazenovia home on Thursday evening, June 6, 2013, surrounded by his devoted family. "He died the way he lived - with dignity," according to his wife of 55 years, Winifred (Edson) Greenberg.
Sid was born in Syracuse, the son of Jacob and Sarah Greenberg. He served in the Army during the Korean War as a training sergeant in Fort Gordon, Georgia. Shortly after he graduated from Syracuse University, Sid began his 63-year career in the automobile business at Cohen and Eggleston, which later became East Syracuse Chevrolet. Sid worked his way up through the ranks and became the owner of East Syracuse Chevrolet in 1982. He moved the dealership to its current location on Bridge Street in 1986. Sid was the voice of East Syracuse Chevrolet for more than 60 years. He voiced the TV commercials, and even performed some commercials on live TV in the early days, and the radio commercials until 2011. People recognized him more for being the voice of Mr. ESSCO than for his face because he chose to maintain a low profile at the dealership.
He generously supported Syracuse University, Syracuse University Athletics and Upstate Medical Center. He was devoted to the arts and worked to support the Syracuse Symphony Orchestra, Syracuse Stage and the Everson Museum. He served on the board of directors of the Jewish Home for many years and played an integral role in the development of Menorah Park.
He was predeceased by his brother Lionel and his sister-in-law Shirley.
He is survived by his wife, Winifred, his son Andrew of Philadelphia, PA and his daughter, Gene of Manlius, a cousin, Irwin Moss of California, and nephews Steven Garner of Seattle and Jamie Garner of Santa Rosa, California. He is also survived by the hundreds of people who worked with him during his six decades at East Syracuse Chevrolet and became his extended family. They will remember him for his patented response to the question, "How are you?" For years, the answer was always the same: "Super deluxe!"
The funeral was held at Temple Adath Yeshurin at 11a.m. on Sunday, June 9. Contributions may be made to the Foundation of Menorah Park.