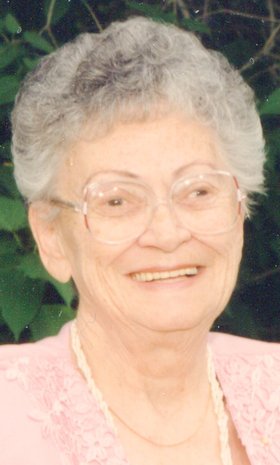 Freda Brown
unknown - June 9, 2013
Freda Mary (Ritchie) Brown, passed away on Sunday, June 9, 2013, and went to be with her beloved husband, Bing. Freda was born on Oct. 9, 1921 to Harold and Freda Ritchie, the oldest of eight children, and grew up in Mattydale. She graduated from North Syracuse High School and worked for many years for the U.S. Post Office in Clay before retiring. Freda was past president of Clay Women's Firemen's Auxiliary, and has resided the last several years with her daughter, Sharron, but resided most of her married life in Clay. She is predeceased by her husband, Vivien "Bing" Brown; sisters, Laura Ferris and Erma Gagliardo; and her two brothers, Melvin Ritchie and Glenn Ritchie.
Surviving to cherish her memory are her daughter, Sharron Wood of Brewerton; three grandchildren, Dale (Tammy) of Phoenix, Eric (Christine) of Pulaski, Melissa Wood of Baldwinsville; six great-grandchildren, Chantelle Demaro, Brandon Wood, Katelyn Aragona, Tessa Wood, Alexandria Wood, and Anthony Calipari; her sister, Doreen Nash of Mattydale; two brothers, Carl (Betty) Ritchie of Mattydale, and Willis Ritchie of Bath, NY; several nieces and nephews.
Funeral services: 11 a.m. Thursday, June 13, in Grace Evangelical Covenant Church, 5300 State Route 31, Clay. Interment will follow in North Syracuse Cemetery. Calling hours: 4 to 7 p.m.Wednesday, June 12, at the Maurer Funeral Home Moyers Corners, 3541 State Route 31, Baldwinsville.