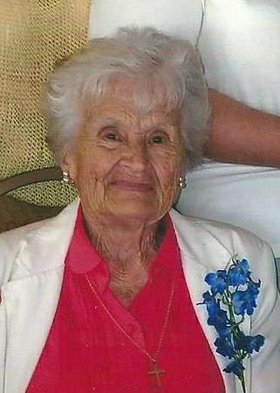 Helen K. Van Order
unknown - June 7, 2013
Helen K. Van Order, 98, a long time Skaneateles resident, died June 7, 2013, peacefully with her family by her side after a long and full life.
The daughter of John P. and Mary Kolar, Helen was born in Ithaca, NY and grew up in Erie, PA, graduating from Erie East High School. She went on to business school, returning to Ithaca and working for GLF.
Helen married Robert A.Van Order in May of 1938 and lived in many places, including Washington, D.C., before settling in Skaneateles in 1951. Helen's first priority was her husband and family, all of whom benefitted from her loving care and guidance through the years. Helen was involved in many community activities including Confraternity of Christian Mothers, the Skaneateles Garden Club, and as a leader and neighborhood chairperson of Skaneateles Girl Scouts. She also had many interests including bridge, golf, travel and lake activities in which she was active well into her 80s. She was a devout Catholic and a faithful communicant of St. Mary's of the Lake Catholic Church.
Helen was predeceased by her husband, Robert, her granddaughter , Patricia Scoville, her brother, Lawrence Kolar and sister, Mary Kolar Mitchell. She was also predeceased by her sons-in-law, Thomas Lenihan and Richard Hosey. She is survived and will be greatly missed by her daughters: Ann Scoville (David) of Canandaigua, NY, Sue Hosey of Venice, FL and Skaneateles, Barbara Kersten (Bill) of Leesburg, VA, Patricia VanOrder (Guy McLain) of Easthampton, MA, Joan Slocombe (Bill) of Amherst, MA and Lynn Lenihan of St. Petersburg, FL and Skaneateles. She is also survived by fifteen grandchildren, thirty-one great grandchildren and her nieces and nephews.
Mass of Christian burial: 10 a.m. on June 19 at St. Mary's of the Lake Catholic Church in Skaneateles. Calling hours: 5 to 7 p.m. Tuesday, June 18, at Robert D. Gray Funeral Home, 49 Jordan St., Skaneateles, NY. In lieu of flowers donations may be made to Mill Hill Missionaries C/O Bart Baly 222 W. Hartsdale Ave Hartsdale, NY 10530, or S.A.V.E.S. of Skaneateles, 77 Fennell St., Skaneateles, NY 13152. To send condolences visit: robertdgrayfuneralhome.com.