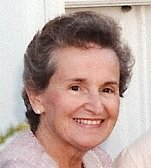 Shirley A. Gillespie
unknown - June 4, 2013
Shirley A. Gillespie, 82, of Auburn, died Tuesday June 4, 2013. Born in Burlington VT, she was a former Cub Scout Den Mother, member of the Jordan Elbridge PTA and worked with the Board of Elections for many years. Her husband Donald died in January of this year.
Shirley is survived by; daughters Claudia Gillespie of Auburn and Lynn (Michael) Malone of Liverpool; sons David (Chun) Gillespie of Stafford, VA., and Brian (Jean) Gillespie of Auburn; a sister Karlene Langley of Northfield, VT: seven grandchildren, two great-grandchildren and several nieces and nephews.
Funeral mass: Saturday, June 8, in St. Alphonsus Church, Auburn. Burial was in Lake View Cemetery, Skaneateles. Contributions may be made to the Owasco Volunteer Fire Dept. To send condolences visit: robertdgrayfuneralhome.com.