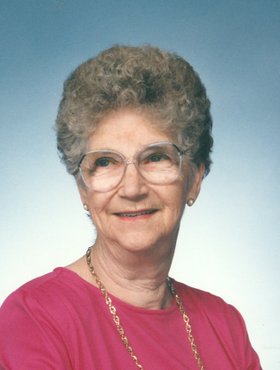 Fay Davies
unknown - June 3, 2013
Fay Bachman Davies went home to glory to be with her Lord and savior on Monday, June 3, 2013. Fay was born Sept. 18, 1915, in Cedar Rapids, Iowa. Having moved to Nelson with her family in 1920, she married her sweetheart, Harold Davies on June 23, 1937, in the Nelson Methodist Church.
She is survived by her five children: Gerald (Genevieve) Davies, Denise (Stanley) Melton, Ronald (Sonia) Davies, Neva (Michael) Foreman and Steven (Laurie) Davies; seven grand-children; 10 great-grandchildren; her sister, Betty McEvers; many nieces, nephews and cousins. She was predeceased by her husband, Harold; her grandson, Jon Schryver and her great-granddaughter, Jessica Ericzon and her siblings, (twins) Lester and Lewis Bachman.
Fay was very active in her community with organizations including: The EverReady Club; the Choralaires; the WSCS; the Nelson United Methodist Church (for 92 years); the Nelson Choir (for 85 years); the Women's Christian Temperance Union; the Erieville-Nelson Heritage Society; she was a Sunday School teacher; a member of CASA. Fay was honored to be nominated as Nelson United Methodist Woman of the Century. Fay's life enjoyments were her Lord, her family, her church, her beloved camp at Echo Lake in the Adirondacks, her gardens and baking. Fay has left an amazing and inspirational legacy to her family, friends and community.
Funeral services: Saturday, June 8, at the Nelson United Methodist Church, 3330 Route 20 East, Cazenovia. Burial was in Nelson Rural Cemetery. To send the family an online condolence, please visit taitfuneralhome.com. In lieu of flowers, contributions can be made to the Nelson United Methodist Church, c/o 21 Lincklaen Street, Cazenovia, NY 13035.