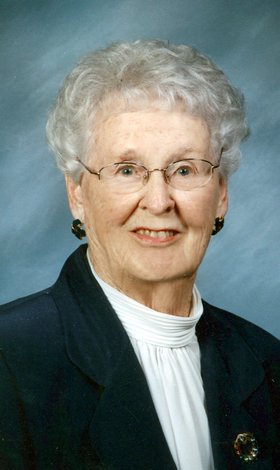 Doris Morey
unknown - May 24, 2013
Doris Stanton Morey, 96, of Camillus, passed away Friday, May 24, 2013 at James Square Health & Rehabilitation Centre. Born on Saturday, Dec. 2, 1916, in Syracuse, she was the daughter of Harry and Alpha Gifford Stanton. Married in 1940 to Howard K. Morey, her husband of nearly 65 years passed away on Feb. 9, 2005. She joined him in heaven on Friday, May 24 after an amazing and beautiful experience of saying goodbye to her daughter.
After spending her early years in Solvay and graduating from Solvay High School as salutatorian of her class, Doris became a homemaker and worked with her husband in his business at Morey's Mill in Taunton until their retirement in 1975.
Doris was a member of Immanuel United Methodist Church, Camillus, UMW and Bible Study Group. She was also a member of Solvay Chapter No. 654 OES for more than 70 years (now known as Bona Fide, Hiawatha, Solvay OES No. 567) and was a past worthy matron and past grand Martha of New York state. A former member of Tuscarora Country Club and Women's Golf Association, she was also a life member of Community General Hospital Auxiliary and volunteer for 40 years.
A great and elegant lady, Doris left wonderful gifts: a legacy of love of family and friends, seeing joy in every situation, hope for what is to come, the holiday traditions and great meals. She was a wonderful cook, well-known for her celebration parties and family recipes. She knew everyone's favorites and would always make them when they came.
A very thoughtful person, Doris was known for doing things for others, always thinking of others first, always gracious and she maintained that persona to the end.
With her husband Howard, she traveled extensively, including six times to Kenya where her son, Douglas, and family reside.
Surviving are her son and daughter-in-law, Douglas G. and Karen Morey of Nairobi, Kenya; daughter and son-in-law, Janice M. and Burt Pedersen of Camillus; grandchildren, Kristen (Stephen) Hanson of Royal Palm Beach, Fla, Todd (Lesley) Pedersen of Washington, D.C., and Nekesa and Portia Morey, both of Nairobi; great-grandson, Nathaniel Howard Hanson; sisters, Wilma Cole of Kingston, Rhode Island, Avis Filkins of Huntingdon, Pennsylvania and Norma Sherwood of Oswego.
Doris was predeceased by her sisters, Marjorie Wass and Vera Whitford.
The family would like to thank the staff of James Square for their love and caring over the last three years, especially the staff of C North.
Donations in memory of Doris may be made to the Memorial Fund of Immanuel United Methodist Church, 303 Kasson Rd., Camillus, NY 13031 or to James Square Employees' Fund, 918 James St., Syracuse, NY 13203.
Relatives and friends called from 11 a.m. to noon Saturday, June 1, at Immanuel United Methodist Church. A memorial service followed at noon at the church with Rev. Heather Williams officiating. Arrangements were by the Buranich Funeral Home, Camillus. Please share condolences at buranichfuneralhome.com.