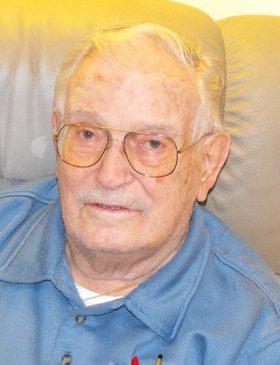 Arthur J. Coville
unknown - June 5, 2013
Arthur J. Coville, 91, of Baldwinsville passed away Wednesday, June 5, 2013. He was born in South Granby, N.Y., and except for time spent in service during WWII, lived in the Syracuse-Phoenix-Fulton-Baldwinsville area all of his life. He worked as a machinist and factory engineer at Carrier Corp. and then as a sales representative, eventually forming his own company, the A.J. Coville Co. Inc. representing manufacturers of cutting tools to industries in New York state. Art was a member of the Little Utica United Methodist Church, holding various church offices through the years. He was a member and past master of the F&AM Seneca River Lodge #160, as well as a member of Royal Arch Masons, Scottish Rite, Tigris Temple Shrine, and Red Cross of Constantine, serving in various capacities. For many years, he was active in the Boy Scouts of America, serving in local units as well as on the district and council level, first with the former Oswego County Council and then with the merged Hiawatha Council. He was a holder of the Silver Beaver Award and completed and instructed in the Wood Badge Training Program. He is predeceased by his wife, the former Jean Chase.
Surviving are his companion of recent years, Alice Horner; three sons, Bruce, Robert and Brian and 1 daughter, Patti; eight grandchildren; three great-grandchildren; three brothers, Lloyd Baker, Duane Coville and Gordon Coville; and several nieces and nephews.
Calling hours: 4-7 p.m. Friday, June 7, at Falardeau Funeral Home, 93 Downer St., Baldwinsville. Services at 11 a.m. Saturday, June 8, at the Little Utica United Methodist Church. Contributions: Little Utica United Methodist Church, C/O Alice Horner, 138 County Route 14, Fulton, NY 13069.