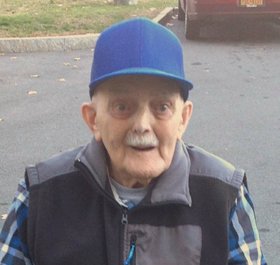 Alfred Abbott
unknown - May 29, 2013
Alfred "Al" Abbott, 92 of Marcellus, passed away Wednesday. May 29, 2013, at Upstate University Hospital @ Community General. He was born April 15, 1921, on the family farm in Pumpkin Hollow. Al proudly served in the United States Army during WWll. He worked at Fairbanks Dairy and was a dairy farmer for the Mulroy Dairy Farm for 30-plus years. During retirement not only did he work with small engine repair at Nightingale Mills in Marcellus, he was an inventive tinkerer and a jokester as well.
Al was a long time member of the Ralph Share American Legion Post 297, where he enjoyed many family gatherings and "hootenannies." Al liked reminiscing about the "old days," going to bingo, watching local sports teams and Judge Judy on TV and wouldn't go anywhere without his ever-present blue hat.
Survived by his five children and three sons-in-law: Liz and Dave Armantrout, Gwen Ryfinski, Debbie and Ron Young, Mike Abbott and Patti and Ken Clark; 10 grandchildren, six great-grandchildren and several nieces and nephews. He was predeceased by his wife of 61 years, Georgia, in 2008, his grandson Dhani Alfred Joe Abbott in 2002, five brothers and one sister.
Calling hours: 4 to 7 p.m. Monday, June 3, the Plis Funeral Home, 33 North St., Marcellus. Services: 10 a.m. Tuesday, June 4 at the funeral home. Burial to follow with Military Honors at Howlett Hill Cemetery. Donations in Al's name may be made to the Ralph Share American Legion Post #297 PO Box 3, Marcellus, NY 13108.