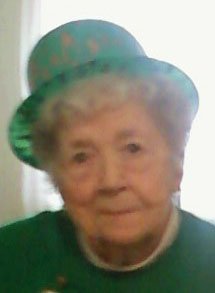 Catherine Bova
unknown - June 1, 2013
Catherine "Katie" Bova, 90, of Pitcher Hill Apartments, died Saturday, June 1, 2013, at St. Joseph's Hospital. Katie was born and raised in Syracuse and was a 1940 graduate from St. Vincent DePaul High School. She resided on Bryant Ave in Tipp Hill for over 50 years and was the daughter of the late Francis and Catherine (McKeon) Wyatt.
Katie enjoyed gambling and playing cards especially pitch. She volunteered for Hope for the Bereaved and for Francis House. Katie was a member of the Salina Civic Seniors and a die-hard Yankees fan. In her youth, she was an avid golfer. Katie was a long time communicant of St. Margaret's Church and a member of their Socialites Senior Group.
She was predeceased by her husband of over 50 years, John J. Bova, in 1994. Surviving are her five children: Patty of Baldwinsville, John (Louise) of Camillus, Nancy (Bob) Walker of Syracuse, Marykay (Peter) Stollberger of Penfield, Sandy (Kevin) Bova of Camillus; a sister, Theresa DuRocher of Westvale; her nine grandchildren: Meagan, Andy, Bobby, and Tim Walker, Nathan Bova, Lauren Pembroke, Vreni, Emma and Hannah Stollberger; and several nieces and nephews.
In Katie's memory, please make contributions to the Carol M. Baldwin Breast Cancer Research Foundation, 14 Technology Dr., Suite 2, Setauket, NY 11773.
Friends may call from 4-7 p.m. on Wednesday, June 5, at Krueger Funeral Home, 2619 Brewerton Road, Mattydale. Prayer services: 9:30 a.m. Thursday, June 6, at the funeral home followed by a 10 a.m. mass of Christian burial at St. Margaret's Church, Mattydale.