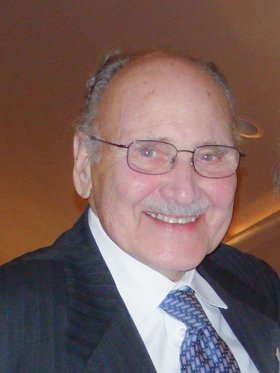 Dr. Jules O. Pagano
unknown - July 14, 2013
Dr. Jules O. Pagano passed away at his home Sunday, July 14, 2013, in Jamesville, surrounded by family members. He was two days shy of his 88th birthday.
His professional career spanned more than a half-century.
Pagano was already a recognized expert on labor education when Kennedy tapped brother-in-law Sargent Shriver to establish the Peace Corps. Over the first five years of the agency's existence, Pagano was director of both University Relations and Training and the Division of Professional and Technical Officers. He helped develop the formulation of the Peace Corps policies in training and education of volunteers for overseas training, and established the first Peace Corps Training Centers.
After the passage of the Higher Education Act in 1965, Pagano was named the first Director of Adult Education Division at the US Office of Education. His responsibilities included administering Title 1 of the Higher Education Act of 1965, the Adult Education Act of 1966, and the Civil Defense Adult Education Program.
After leaving government, Pagano began a long career in higher education. He served as Dean and Associate Vice President of Florida International University. In 1977, he was selected as President of the Massachusetts Board of Regional Community Colleges where he appointed the first black and first woman community college President in the state. In 1979, Dr. Pagano was recruited by Bard College in New York to serve as Vice President and Provost of Simmons Rock. He believed that "the student - the learner - is at the heart of the education process and that learning to learn is more important than learning the facts…"
In 1981, Pagano returned to government when Gov. Hugh Carey of NY appointed him Chair of the NYS Unemployment Insurance Appeals Board. Following his work in New York, Jules traveled to California where he served as President of Saybrook Institute, a graduate school and research center. He then returned after a short retirement to Washington, DC where he accepted a position as Vice President of the American Income Life Insurance Company and Executive Director of AIL's Labor Advisory Board.
A proud son of Italian immigrants, Jules was born on July 16, 1925 in Newfield, NJ. He attended St. John's College in Annapolis. He studied at the University of London as a Senior Fulbright scholar in 1955. He later served as director of the St. John's College Alumni Board from 1984-1988.
Nothing made Jules more proud than his family. He was so proud of his brothers, especially his brother Mo Pagano, an accomplished artist, who survives him in Vineland, NJ. He adored his wife Kathleen, his son Ed, daughters Debbie and Penny and grandchildren Joy, Erin, Elsie, Tiffany, Jack and great granddaughters, Rylee, Ellie and Arianna as well as his stepchildren Angela, Jim and Karen.
The family held a private memorial service in Syracuse last week and will be holding a public memorial service on Sept. 16 in Washington, D.C. The family has asked that contributions be made in his name to the Syracuse Friends of Chamber Music or to the CNY Food Bank. For a guest book, please visit: scheppfamily.com.