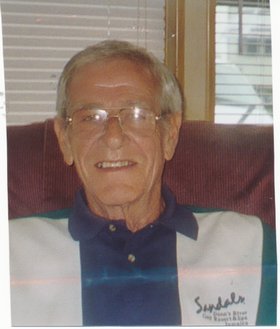 William G. Miller
unknown - July 18, 2013
William G. Miller, 77, of Baldwinsville, passed away Thursday, July 18, 2013 at VanDuyn Home and Hospital. He was born on Aug. 10, 1935, the son of Gordon and Nina Miller. He was also predeceased by his sister, Barbara Gustina. He graduated from Vocational High School and was in the Air National Guard and served in the Berlin Crisis. He started his career in the grocery business delivering groceries when he worked for Netti Wholesale, then worked for Midstate Markets before becoming supervisor of warehousing at P&C Food Markets and eventually retired as purchasing director at Penny Curtiss Bakery. Bill was an avid golfer and bowler in Syracuse and Largo, Fla.
He is survived by his wife of 46 years, Nancy Green Miller; son, William John Miller; granddaughter, Savannah Jean Miller; and a niece and nephew, Sandy and Robert Gibbons.
Calling hours: 5-7 p.m. Saturday, July 20, at Falardeau Funeral Home, Baldwinsville. Services: 11 a.m. Monday, July 22, at the funeral home, 93 Downer St. Burial, Onondaga Valley Cemetery, Syracuse.