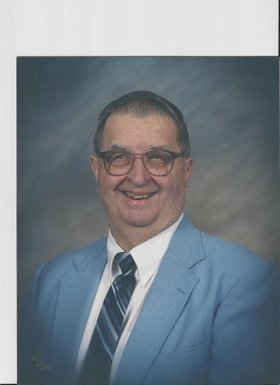 Donald A. Bausman, Sr.
unknown - July 14, 2013
Donald A. Bausman, Sr., 84, of Solvay passed away Sunday, July 14, 2013, at St. Camillus Health and Rehab. Born in Dayton, OH, after high school he served in Army Air Forces. Don owned Don's Lithography for over 55 years. He held many positions at Christ Community Church (formerly Immanuel Church of the Nazarene), and was on many committees at the district level including 23 years on the District Advisory Board, and a delegate to seven different Church of the Nazarene International General Assemblies. He was predeceased by his son Ralph in 1990 and his brother and sister in law Bud and Jane Bausman.
Don is survived by his wife of 65 years the former Frances Sehl; two sons Don (Janet) Bausman, Jr. of LaFayette and Rev. Marty (Julie) Bausman of Waynesburg, PA; two sisters Dottie (Auburn) Chitty and Sherry (Kenneth) Armstrong; four grandchildren Jonathan (Judy) Bausman, Jill (Matthew) Neri, Janelle Bausman and Travis Bausman; two great grandchildren, Rod and Rebecca Bausman; several nieces and nephews.
Calling hours were held 5 to 8 p.m. Wednesday, July 17, at B.L. Bush & Sons Funeral Home, 10 Genesee St., village of Camillus. Services were Thursday, July 18, at Christ Community Church , 3644 Warners Road, Syracuse, NY 13209 with the Rev. Art Magnuson officiating. Burial was in Woodlawn Cemetery, Syracuse. Contributions in lieu of flowers may be made to Christ Community Church. Please sign guestbook at blbush.com.