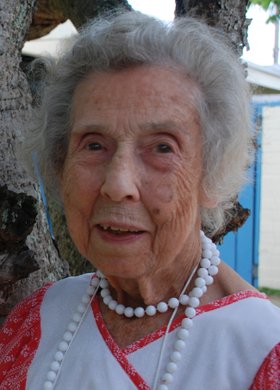 Alice Mapes
unknown - June 5, 2013
Alice Mapes, 93, daughter of the late Arthur and Ethel Garnett, died Wednesday, June 5, 2013, while under hospice care, in her room at Pohai Nani Retirement Community in Kaneohe, HI. Alice, born in Demarest, NJ, lived most of her life in New York State, first in Monticello for 28 years, then for 44 years in Pompey Center in Central New York. Her husband of 62 years, Jack Mapes, passed away in 2004. After escaping to Hawaii from the New York winters for many years, Alice moved to Pohai Nani, near her son and daughter-in-law, John and Anne Mapes. Alice, a registered nurse in her younger years, was always active in her church and happiest when volunteering and helping others. She will be remembered especially for her love of singing.
Alice is survived by her children, John (Anne) of Kailua, HI, Bruce of Newtown, CT, and Janet of San Francisco, CA.
If desired, memorial contributions can be made to the charity of one's choice.