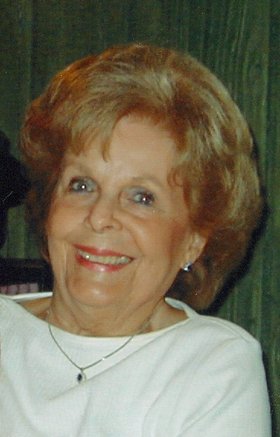 Mary Ann Flanagan
unknown - July 6, 2013
Mary Ann Flanagan, 89, of East Syracuse passed away Saturday, July 6, 2013, at St. Joseph's Hospital. She was born in Buffalo to the late Blanche and Harry Pitman. In 1974 Mary Ann and her late husband of 55 years, John J. Flanagan, relocated to Syracuse. She was a communicant of Holy Cross Church, DeWitt. She was a homemaker who devoted her life to her family. She was predeceased by her sister, Margaret Trautman and two brothers, Thomas and Harry Pitman.
Mary Ann was a beautiful person who was kind, loving and generous. She cherished her Buffalo Bills and loved animals, especially her three granddogs. She enjoyed spending time with her family, dining out, movies and shopping.
She is survived by her sister-in-law, Deidre Pitman of Buffalo; two daughters, Kathleen (Joe) Antonini of Bloomfield, MI, and Jane Flanagan of East Syracuse; and a son, Michael (Laurel) Flanagan of Cicero; four grandchildren; two great-grandchildren; and many nieces and nephews.
Services at 9:45 a.m. Saturday, July 13, at Eaton-Tubbs Fayetteville Chapel, 7191 E. Genesee St., Fayetteville followed by a Mass of Christian Burial at 10:30 a.m. at Holy Cross Church, 4112 E. Genesee St., DeWitt. Burial will be in St. Mary's Cemetery, DeWitt. Contributions may be made to Holy Cross Church or any charity of choice. The family would like to thank Dr. John Callahan and the nursing staff on 2-8 for their wonderful care and support during a difficult time.