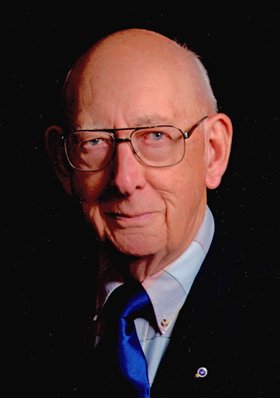 J. Robert Cudworth
unknown - July 4, 2013
J. Robert Cudworth, 90, of Camillus, passed away Thursday, July 4, 2013 at St. Joseph's Hospital Health Center. Born and raised in the Cortland area, he lived in Camillus for more than 50 years.
Bob was a graduate of McGraw High School and Syracuse University where he received a B.A. degree. He was a Marine Corps veteran of WWII. A writer and editor, he was owner of Cudworth Associates. He was a member of St. Luke's Episcopal Church and Solvay-Geddes-Camillus Kiwanis. He was active with Toys for Tots and Meals on Wheels. He also enjoyed bowling and golfing in many leagues.
Bob was predeceased by his first wife, Clara F. Cudworth; and sister, Jean C. Willis.
Surviving are his wife of 42 years, Catherine "Kay" Cudworth; daughters, Jacqueline Cross of Marcellus and Suzanne Jerrett of Minnesota; son, Stephen Cudworth of Camillus; six grandchildren; three great-grandchildren; and several nieces, nephews and cousins.
Relatives and friends called from 4 to 7 p.m. Thursday, July 11, at the Buranich Funeral Home, Inc., 5431 W. Genesee St., Camillus. A memorial service was at 11 a.m. Friday, July 12 at St. Luke's Episcopal Church. In lieu of flowers, contributions may be made to St. Luke's Episcopal Church, P.O. Box 91, Camillus, NY 13031 or to Meals on Wheels ECHO Inc., 4600 W. Genesee St., Syracuse, NY 13219. "Semper Fideles" Please share condolences at buranichfh.com.