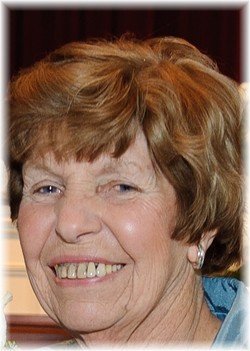 Barbara J. Holland
unknown - June 27, 2013
Barbara J. Holland, of Liverpool, passed away Thursday, June 27, 2013 at home. She was born on Nov. 13, 1932 to George and Eva Wheat. Her childhood was spent in Rose Hill, near Marcellus. She graduated from Marcellus Central High School in 1949 and went on to attend Syracuse University where she graduated in 1953 with a bachelor's degree in nursing. Barb's legacy of caring for others began at Syracuse Memorial Hospital in the Department of Pediatrics where she held positions of pediatric supervisor and night supervisor.
On May 30, 1959, she married Maurice M. Holland of Tupper Lake, N.Y., and had two beautiful daughters, Patricia and Kathleen. In 1965, she joined the teaching staff of Crouse Irving School of Nursing and completed her Master's of Science in Education. Barb retired from Crouse School of Nursing in 1996. She was a loving and caring wife, mother, grandmother, and friend. Barb never complained about anything, telling everyone "I'm fine." She was indeed.
Barbara is survived by her husband of 54 years, Maurice M. Holland; two daughters, Patricia Anne (Steven) Wolf and Kathleen Anne Kurtz and four grandchildren: Meghan, Daniel, Holland and Reilly.
Calling hours: 5 to 7 p.m. Monday, July 1, at the Maurer Funeral Home Moyers Corners, 3541 Route 31 Baldwinsville, with funeral services following at 7 p.m. Private burial will take place in Lakeview Cemetery, Skaneateles. Contributions in Barbara's name may be made to Hospice of CNY.