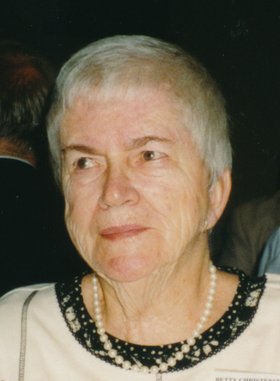 Mary Christensen
unknown - July 8, 2013
Mary Betty Christensen, 89, of Baldwinsville, loving and devoted mother, wife and friend died Monday, July 8, 2013, at Crouse Hospital. She was born in Philadelphia, PA to Dr Robert M Hunter and Elva (Trego) Hunter. She was a 1946 graduate of Cornell University New York Hospital School of Nursing where she taught nursing prior to marrying and moving to Denver in 1950. In Denver she taught at Saint Anthony's Hospital until becoming a mother. A resident of Baldwinsville since 1957, Betty volunteered in the community for many years, including with Meals on Wheels, the Volunteer Center, Red Cross blood drives, and with the elderly. Betty loved family, friends, animals, music, the ocean and beach, her porch, playing Scrabble, cards and board games.
She was predeceased by her husband William Middleton Christensen and her brother Robert M Hunter Jr.
Surviving are two daughters: Elva (Gregory F) Massaro of Baldwinsville, Beth Christensen of Burlington MA; two sons: Mark (Luanne) of Baldwinsville and Gary (Bonnie) of Camillus; four grandchildren: Morgan Christensen of Baldwinsville, Gregory P Massaro of Syracuse, Lindsey Kopp of West Palm Beach FL, Renee Vogelsang of Syracuse; a sister-in-law, Marjorie Hunter and her dear family of Lansdale PA; several nieces and nephews.
Betty leaves behind many friends and neighbors whose company she enjoyed and visits and kindnesses she appreciated so much, particularly in her later years. Her family thanks them as they do the wonderful nursing staff on the sixth and fifth floors at Crouse Hospital.
Calling hours: 4-7 p.m. Friday, July 12, at Falardeau Funeral Home, 93 Downer St, Baldwinsville. Service at 9 a.m. Saturday, July 13. Burial to follow at Onondaga County Veterans Memorial Cemetery, Syracuse.
In lieu of flowers, contributions may be made to Crouse Health Foundation, 736 Irving Ave, Syracuse NY 13210, earmarked for the Crouse Hospital College of Nursing.