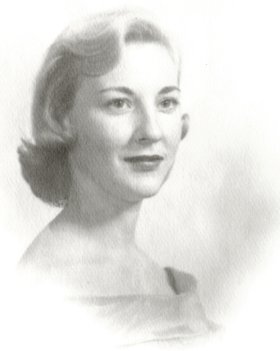 Dorothy Bush
unknown - June 29, 2013
Dorothy "Dottie" H. Bush, 75, formerly of Camillus, passed away peacefully after a courageous battle with cancer on June 29, 2013, with her family by her side on the Eastern Shore of Maryland where she had been living for the past five years. Originally from Tabitha and Reedville, VA, Dottie was the daughter of Edward "Capt. Spider" Haynie and Dorothy Deihl Haynie.
She graduated from Reedville High School in 1955 as class valedictorian. In high school, she was an active athlete playing basketball, softball and field hockey. She attended the College of William & Mary and graduated with high honors with a Bachelor of Arts degree in 1959. During college she was a member of the Chi Omega Sorority and member of the varsity field hockey team.
She served as the secretary for B.L. Bush and Sons Funeral Homes for over 40 years. She was a board member and active volunteer of several organizations in the Central New York area including; Syracuse Symphony, Landmark Association of Central New York, Syracuse Stage Guild, Everson Museum, Onondaga County Republican Citizen's Committee, Camillus Women's Republican Club, Town of Camillus Republican Committee, Camillus Historical Society where she also worked on the preservation and restoration of the Octagon House, Onondaga County City Youth Board, Town of Camillus March of Dimes Campaign and the Recipient of the Camillus Mrs. Republican Award. She was also a member of Fairmount Community Church, United Church of Christ. She loved being around the water, gardening, reading, playing bridge and restoring older homes and was an avid follower of CNBC. She savored a great meal and was a fabulous cook. In later years, she especially enjoyed being surrounded and entertained by her children and grandchildren. She was an enthusiastic supporter of Syracuse Basketball and enjoyed the 2003 championship run. She had a generous and positive "can do" spirit that inspired everyone around her.
She was predeceased by her husband of 42 years, William E. "Bill" Bush in 2001 and her daughter-in-law Connie Walker Bush in 2011.
She is survived by her five children; Barbara (Doug) Cooper of McLean, VA and St. Michael's, MD, Bart (Cathy) Bush of Reston, VA, Jane (Tim) Scanlon of Cazenovia, Rebecca Merlino of Atlanta, GA, and Brian (Sharon) Bush of Camillus, NY. Two brothers, Bill (Shirley) Haynie of Mechanicsville, VA and John (Susan) Haynie of Reedville, VA. Eleven grandchildren; Sophie Cooper; Billy, Robert, Teddy, Bart and Ben Bush; Hannah and Nash Scanlon; and Jeffrey, Andrew and Amanda Bush. Three dogs; Shug, Daisy and Bailey.
Calling hours: 4 to 8 p.m. Friday, July 12, from at B.L. Bush & Sons Funeral Home, 10 Genesee St., village of Camillus. Services and burial will be private. The family wishes to thank all of the health care providers especially Dr. Mary DeShields in Easton, MD and Dr. Jeffrey Kirshner in Syracuse, NY whose efforts extended her time with us. Contributions in lieu of flowers may be made to The Carol Baldwin Breast Cancer Research Fund of CNY, Inc., PO Box 356, Camillus, NY 13031-0356
Please sign the guestbook at blbush.com.