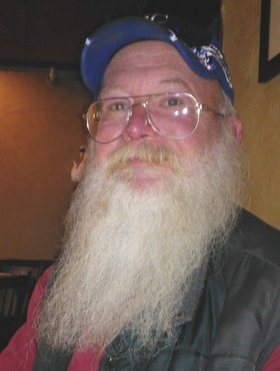 CA Williams, Jr.
unknown - July 1, 2013
CA (Clayton Adair) Williams, Jr., 61, died Monday, July 1, 2013. He was born in Texas in August 1951 and moved to Cazenovia in 1999. CA was a talented musician and songwriter, avid reader and loved his dogs more than anything. CA spent the first part of his life working as a cook and as management in the restaurant/hotel business. He is best known for being a wizard with computers as the owner of BC Computers and as a fascinating storyteller of his adventures. He will be missed by the many people whose lives he touched. His computer business in Cazenovia led him to meet and become friends with many of his customers.
He is survived by his loving wife, Barbara L. (Mellema) Williams, his parents, Jimmie (Odom) and Clayton A. Williams, Sr. and his brother James O. (Jackie) Williams all of Bellville, TX; and his nieces, Kim Williams and Kirsten Brownson.
CA had a loving New York family: He was pre-deceased by his father-in-law Raymond L. Mellema, who was the only person who didn't call him CA and referred to him as Clayt, his mother-in-law Barbara J. Mellema of Westvale, brother-in-law Ray Mellema of Erieville, and sisters-in-law Jean (Steven) Caraccilo of Syacuse and Kim (Willis) Mellema-Reid of Shirley, Mass., his two nieces, Sarah Jean Mellema of Yosemite, CA and Samantha Kim Mellema of Tarrytown and a sister-in-law, Ann H. Mellema of Syracuse.
Calling hours: from 3-6 p.m. Saturday, July 13, at Tait Funeral Home, Inc., 2333 Fenner Road, Cazenovia. To send the family an online condolence, please visit taitfuneralhome.com.