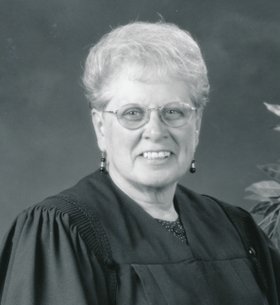 Hon. Claire E. Rutherford
unknown - July 3, 2013
Hon. Claire E. Rutherford, 75, of Baldwinsville passed away peacefully at home on Wednesday, July 3, 2013. She was born in Buffalo, and had lived in Baldwinsville the past 50 years. Claire was a town justice in the town of Lysander for 31 years and manager of Candlewood Gardens and Pearl Street apartments for 30 years. Claire was a member of Grace Episcopal Church. She was a leader in the Girl Scouts and Cub Scouts. She was the first woman Rotarian in Baldwinsville and a member and former Director of the Baldwinsville Chamber of Commerce. Claire was a former Director of Aurora of CNY. She was a former member of the American Federation of Zonata. A Member of the NYS Magistrates Association and a fomer President of the Onondaga County Magistrates Association.
Claire was predeceased by her husband, Courtney, Sr., daughter, Diane, sons, Randy and Keith and her best friend Joseph Cicci.
Survivors: her son, Courtney "Court" of Baldwinsville; seven grandchildren and two great-grandchildren.
Committal services: 10 a.m. Tuesday, July 9, in Riverview Cemetery, Tappan Street,Baldwinsville. Calling hours are 2-4 and 7-9 p.m. Monday, July 8, at the Falardeau Funeral Home, 93 Downer St., Baldwinsville. Contributions: To the "Park Bench Memorial" in her memory, PO Box 115, Baldwinsville, NY 13027.