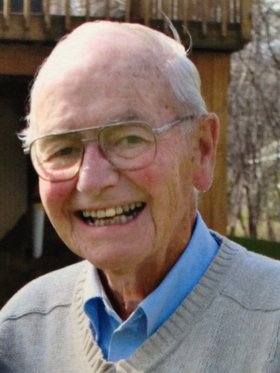 Dr. Donald D. Boudreau
unknown - January 19, 2013
Dr. Donald D. Boudreau of West Lake Road, Skaneateles, died peacefully on Saturday, Jan. 19, 2013, at The Matthew House in Auburn.
Dr. Boudreau was born in Syracuse, the son of the Central New York pioneer psychiatrist, Dr. Eugene N. Boudreau, and his wife, Elsie Lee Page Boudreau. He attended Pebble Hill School and graduated from The Lawrenceville School. He served in the U.S. Navy during WWII and attended Princeton University, graduating with the class of 1946. He received his medical degree from Queen's University in Belfast, Ireland, completed an internship at Jefferson Medical College Hospital in Philadelphia and a residency in psychiatry at Payne Whitney Clinic in New York City.
After his residency, Dr. Boudreau returned to Syracuse and established a private practice in psychiatry. He was a supervising psychiatrist at Hutchings Psychiatric Center in Syracuse and an assistant professor in the department of psychiatry at SUNY Health Science Center, now Upstate University Medical Center. He was a Distinguished Life Fellow of the American Psychiatric Association. Dr. Boudreau was also a member of the medical staff at Benjamin Rush Center, St. Joseph's Hospital Health Center and Community General Hospital. He was Onondaga County commissioner for mental health for many years and then, until his retirement in 2005, worked at Cayuga County Community Mental Health Center in Auburn.
Dr. Boudreau was an avid tennis player and enjoyed skiing, sailing, gardening and above all else, spending time with his children and grandchildren. He is survived by his four children and their families: Dr. Eilis Boudreau, her husband Kerry Griffin, their daughters Caeli and Willow; Christopher Boudreau, his wife Thalila, their daughters Nasya and Chezeki; Susan Fragale, her husband Michael, their sons Jake and Brendan; and Stephen Boudreau and his wife Tracey. He is also survived by his sister Betty Jane Boudreau and by the family of his brother, the late Dr. Robert Boudreau. He was predeceased by his wife, Elisabeth Fagan Boudreau, in 1993.
Mass celebrating Dr. Boudreau's life: Saturday, Jan. 26 at St. Mary's of the Lake Church, 81 Jordan St., Skaneateles. Burial: in St. Mary's Cemetery, Skaneateles.
Those of his friends wishing to make contributions to his memory are asked, in lieu of flowers, to contribute to the Alzheimer's Association of CNY, 441 West Kirkpatrick Street , Syracuse, NY 13204 , or to The Matthew House, 43 Metcalf Drive, Auburn, New York 13201. To send condolences visit: robertdgrayfuneralhome.com.