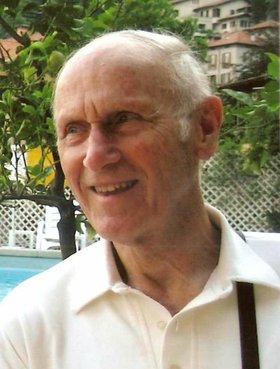 Robert Eisengrein
unknown - January 20, 2013
Robert "Bob" Eisengrein, 92, of Devens, MA, passed away from this earth on Jan, 20, 2013. He was born on Staten Island, N.Y., on May 25, 1920, son of the late Adam and Sophie (Shroader) Eisengrein. An electrical engineer by trade, Bob obtained degrees from New York Polytech and MIT. Bob's great passion was for politics and he served as a state Representative from Keene, NH. for six years; he also served on the city council. His efforts supporting the Democratic cause were rewarded in April 2012 when he was awarded a lifetime achievement award by the Massachusetts Democratic Coalition. In 1983 Bob moved to Acton, MA, where he became an integral member of ACES - an organization that worked to clear the water pollution caused by local chemical manufacturer, W.R. Grace. In recognition for his work with ACES, the governor of Massachusetts selected Bob as "Citizen of the Year" for the environment. When he and his wife, Bette, moved to Devens in 2001, Bob continued to be an engaged citizen serving on the Devens Committee as an assessor and helping to build a new community. He was a member of the Trinity Congregational Church in Concord and an inspiration to all who knew him.
Bob is survived by his loving wife, Bette (Johnston) Barbadoro, daughters Perri Eisengrein Kentner and her husband Clarence, Linda Eisengrein Reid and her husband Alan. Paul Barbadoro and his wife Inez, John Barbadoro and his late wife Patty Jo Sullivan, Thomas Barbadoro, Patrick Barbadoro and his wife Pam Simone, Veronica Rogalis and husband Paul, and Mark Barbadoro and his wife Vivienne. Bob is also survived by eight grandchildren and five great-grandchildren.
Funeral service: 10 a.m. Saturday, Jan. 26 at the Trinity Congregational Church of Concord located at 54 Walden St., Concord. Calling hours: 4 to 7 p.m. Friday, Jan. 25 at the Badger Funeral Home, located at 347 King Street, Littleton, MA. In lieu of flowers, contributions may be made to the Nashoba Nursing Service and Hospice, 2 Shaker Road, Suite D225, Shirley, MA 01464. Please see badgerfuneral.com.