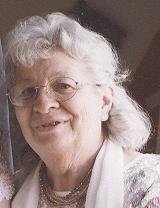 Doris C. Hughes
unknown - January 15, 2013
Doris C. Hughes, 85, of Elbridge died peacefully at home on Tuesday, Jan. 15, 2013. Born in New Ashford, MA, she was the daughter of Giovanni and Francesca Gaspardi Cattaneo. Doris and her late husband William moved to Elbridge in 1973.
She and Bill owned the Elbridge Motel and Doris continued to operate the motel following Bill's death in 2002. Doris especially enjoyed chatting with those staying at the motel.
Doris loved sports and she was an avid SU fan. She enjoyed antiquing, bird watching, country music and her flowers. Doris spent many moments watching weather reports which she then enjoyed sharing with her family.
In addition to her husband, Bill, she was predeceased by four sisters, Catherine Cattaneo, Lucy Piantoni, Anita Golin and Emma Hover.
Surviving are a son, James E. Hughes of Elbridge; a daughter, Leanne (Tom) Fiscoe of Camillus; brother Giovanni Cattaneo of New Ashford, MA; two sisters, Zita Darling of Chalfont, PA and Rose Castagna of Richmond, MA; six grandchildren, Jessica, Jennifer, Paul, Amanda, Thomas and Paul, as well as several nieces and nephews.
Calling hours: 1-4 p.m. Saturday, Jan. 19, at the Bush Funeral Home, 120 E. Main St., Elbridge. Services: 2 p.m. Tuesday, Jan. 22 in the Onondaga County Veterans Memorial Cemetery with the Rev. John DeLorenzo officiating. Contributions may be made to a favorite charity. The family wishes to thank the wonderful staff at VanDuyn, the Stafkings care givers, and special helpers Donnie, Jen and Paul. We all love you, Maudie.