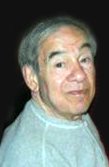 William J. Strepelis
unknown - January 10, 2013
William J. Strepelis, 81, of Fairmount, passed away Thursday, January 10, 2013 at The Centers at St. Camillus. Born in Brooklyn on Friday, July 10, 1931, he was the son of John W. Strepelis and Genevieve (Allis) Strepelis. He lived in Endicott before moving to Syracuse in 1937.
Bill was a 1949 graduate of Vocational High School and 1953 graduate of Syracuse University. An Army veteran, he retired in July 1996 from the Onondaga County Health Department after 30 years and was previous owner of the Thor & Blue Star Restaurant for 12 years. He was a member of St. Sophia Greek Orthodox Church. Also known as a handyman and auto mechanic, he enjoyed fishing and golf in his youth.
Bill was predeceased by his parents, aunts and uncles.
Surviving are his wife of 48 years, the former Maria Kevelos; daughter, Florendia Strepelis of Camillus; son, John Strepelis of Geddes; aunt, Dimitroula in Greece; and many cousins.
Relatives and friends called from 1 to 4 p.m. Sunday, Jan. 13 at the Buranich Funeral Home, 5431 W. Genesee St., Camillus. Funeral services were at 10 a.m. Monday, Jan. 14 in St. Sophia Greek Orthodox Church with Rev. Dr. David R. Smith officiating. Bill was laid to rest in Oakwood Cemetery.
Contributions may be made to St. Sophia Greek Orthodox Church, 325 Waring Rd., Syracuse, NY 13224 or to Rescue Mission, P.O. Box 11122, Syracuse, NY 13218. Please view the Strepelis Family Video Tribute and share condolences at buranichfuneralhome.com.