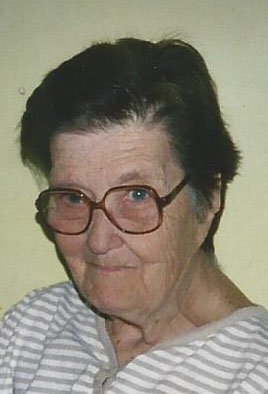 Mae P. Hudson
unknown - January 14, 2013
Mae P. Hudson, 90, of Garden City Drive, Mattydale, died Monday, Jan. 14, 2013, at Central Park Nursing Home. Mae was born in Waverly, N.Y., and resided in the North Syracuse area for 30 years before moving to Mattydale in 1984.
Mae was a homemaker and a loving grandmother who enjoyed playing bingo, crocheting, knitting and cooking big meals. She attended Sacred Heart Church in Cicero and volunteered on their bingo committee.
She was predeceased by her husband of 40 years, Harry Hudson, in 1994.
Mae is survived by two daughters: Genevieve (Mark) Garland of Syracuse and Nancy (David) Markley of Fulton; her five grandchildren: Mathew, Kristy, Gregory, Kelly and Kim; and two great grandchildren, Benjamin and Austin.
Contributions in Mae's memory may be made to the S. P. C. A., 5878 E. Molloy Rd., Mattydale, NY 13211 or to the CNY Cat Coalition, P.O. Box 6182, Syracuse NY 13217.
Calling hours: 4 to 7 p.m. Thursday, Jan 17 at Krueger Funeral Home, 2619 Brewerton Road, Mattydale, with a funeral services following at 7 p.m. Burial: at 10:30 a.m. Tuesday, Jan. 22 in Veteran's Memorial Cemetery, Syracuse.