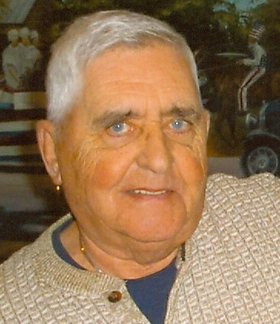 Francis J. Scanlon
unknown - January 9, 2013
Francis J. Scanlon, 78, of Kirkville, and formerly of Old Forge, passed away peacefully at home on Wednesday, Jan. 9, 2013 surrounded by his wife and family. Born Feb. 9, 1934, to Thomas and Margaret (McGuire) Scanlon, Fran grew up in Herkimer, N.Y. and graduated from Herkimer High School.
Fran had a unique work history which included road construction, ski patrol and operations at Jiminy Peak Ski Hill, Paleface Mountain and Shoemaker Mountain, and Loblaw's grocery store. Fran owned and operated The Riverside Restaurant and Fran's Lawn Care Service in Old Forge before moving to Kirkville. One of his greatest personal accomplishments was the 25 years he volunteered with the Old Forge Fire Department as an EMT and ambulance driver. After many years together, he and Mary Margaret Wagner were married in 2002 surrounded by their families. Fran loved to read, play golf, fish, ski and share his love and knowledge of those things with others. Though he has struggled through many health issues over the last several years, he never gave up or stopped smiling.
Fran is survived by his wife, Mary Margaret, their children Paula (David) Hayes, MaryAnn (Rodney) Levesque, Tom (Susan Marvin) Scanlon, Missy (Larry) Levesque, Lori (Marshall) Patton, Rich (Beth) Wagner, Shari Clubine, and Matt (Kim) Wagner. The love of his life, his grandchildren and their families – Stephanie (Patrick) Doherty, Christopher (Beth) Walker, Nicholas Hayes, Rodney (Adrienne) Levesque, Jamie (Eric) Woodward, Cory Scanlon, Kali Scanlon, Ryan (Kristen) Smith, Timothy (Shelley) Smith, Elizabeth (Peter) Naughton, Dan Wagner, Austen (Justine) Levesque, Stephen & Joey Levesque, James Patton, Zach, Dale & Nathan Wagner, Kayli and Sabrina Clubine, Madison, Jordan, Jacob & Hannah Wagner as well as 10 great grandchildren. In addition he is survived by his sister, Marie Scalise, and her family. He was predeceased by his parents, his sister, Jeanette Barrett, and his brother in law, Orrie Scalise.
For a guestbook, please visit scheppfamily.com. The family would like to extend their appreciation to the wonderful people at PACE CNY who supported us in keeping Fran at home with his family. In lieu of flowers, please consider donations in Fran's memory to a local food pantry, the Old Forge Fire Department, PO Box 1170, Old Forge, NY 13420, or the St. Francis Day Program, 1108 Court Street, Syracuse, NY 13208.