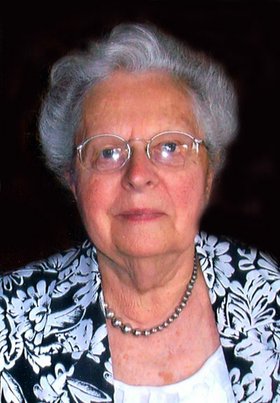 Ella I. Rhinehart
unknown - January 4, 2013
Ella Imlay Rhinehart, 85, of Syracuse, passed away Friday, Jan. 4, 2013 at Iroquois Nursing Home. Born in Cleveland, Ohio on Saturday, Nov. 12, 1927, she was the daughter of Robert Imlay and Marguerite (McDonald) Imlay. After spending her early years in Zanesville, Ohio, she lived most of her life in the Syracuse area.
Ella graduated from the College of Mount St. Joseph in Cincinnati, Ohio, and taught school in California and the Syracuse City School District. A communicant of Holy Family Church, she formerly attended Transfiguration Church and was a member of Blessed Sacrament's Altar & Rosary Society. She was an avid reader and book collector. She had a keen interest in all the arts, especially the opera, was a tremendous cook, loved gardening and floral arranging, and had a special flair for entertaining.
A selfless woman of strong faith and inner fortitude, Ella gave continuously of herself to others. She was extraordinarily progressive in fostering and mentoring women's independence. Her zest for life was much admired and she will be deeply missed by all.
Surviving are her husband of 57 years, Donald; son and daughter-in-law, James and Susan Rhinehart of Skaneateles; daughters and sons-in-law, Dr. Mary Ellen Rhinehart of Boston, Massachusetts, Julie and Martin Pohl of New York City, Jeanne and Dean Cobin of Mahwah, New Jersey, Catherine and Tim Eagan of Boston, Massachusetts, Carol and Mark Kopp of Camillus, and Teresa and Mike Dembowski of Fairfax, Virginia; brothers and sister-in-law, Peter and Gretchen Imlay of San Francisco, California and Michael Imlay of Chicago, Illinois; sister-in-law, Marlene Peyton of Columbus, Ohio; seven grandchildren; and several nieces and nephews.
Relatives and friends called from 4 to 6 p.m. Monday, Jan. 7 at the Buranich Funeral Home, 5431 W. Genesee St., Camillus. Rev. Herve Muyo celebrated a funeral Mass at 10 a.m. Tuesday, Jan. 8 at Holy Family Church. Ella was laid to rest in St. Mary's Cemetery, DeWitt. In lieu of flowers, contributions may be made to the Food Bank of Central New York 7600 Interstate Island Rd., Syracuse, NY 13209. Please share condolences at buranichfuneralhome.com.