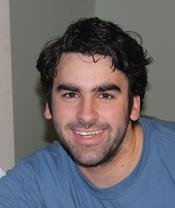 Michael W. Kriesel
unknown - January 6, 2013
Michael W. Kriesel, 22, of Manlius, passed away Sunday Jan. 6, 2013 in Jacksonville, Fla.
Mike enjoyed so many things, it would be impossible to name them all. Right at the top of his list would be his family. He loved family vacations including cruises, a trip to Hawaii and Disney over and over again. He liked them even more when one of his grandmothers and some aunts, uncles or cousins were included in the trip. But it didn't need to be a vacation, he also loved a family-get together, going to the Adirondacks or Otisco Lake, family dinners or watching TV with his family.
His parents could not have been prouder of the man he became. He recently found his avocation, which was taking care of animals, and had never been happier than he was over the last several months. Michael was a student at Santa Fe College Teaching Zoo, where he finally found his dream. In pursuit of his dream, Michael attended SUNY Potsdam and Onondaga Community College. Michael is a 2008 graduate of Fayetteville-Manlius High School. Michael worked at Immaculate Conception Parish and BluePrints Dog Studio prior to beginning at Santa Fe in August of 2012.
Mike had begun really enjoying his fit life doing local runs, joining CrossFit Dewitt, doing CrossFit competitions and becoming a Tough Mudder junkie, dragging anyone he could to complete the course…not for time, not for accolades, but for the sheer joy of having the experience with whomever was silly enough to agree. He was already planning his next Mudder and trying to recruit family and friends to do it with him because "it was fun." From the time he was a little boy, he always made friends easier than just about anyone. He then forced those friends to include everyone that was around to be a friend. When there was a kickball game to be played, he assigned friends to go recruit others and made sure everyone was involved.
Over the last few years, he established friendships that were truly incredible. His friends remember Michael for his love of animals, his selfless devotion to his friends and family, his love of his sports teams, mostly Syracuse University and the Miami Dolphins, playing ultimate Frisbee, soccer and kickball or just about any board game. He enjoyed all kinds of music and loved scary movies. His friends said that "Mike took the opportunities that life handed him and turned them into something grand that could be enjoyed by all."
Michael lived his life with the strength of character, heart and soul that exemplifies the gift from God that he was. It did not matter to Michael what you were, old or young, democrat or republican, black or white, gay or straight, loved the Dolphins or were a Jets fan – it only mattered who you were on the inside, where it counts.
Mike was a great son, a fantastic brother, a wonderful uncle, a fantastic grandson, a loving nephew, a fun cousin and an incredible friend. His life was too short, and the world will miss the enjoyment that he would have added to so many lives. The people who knew him will cherish the memories they have of him. Michael embraced life at every turn and everyone that ever met him will remember him with a smile.
Surviving are his parents, William and Kelley Kriesel of Manlius; his sisters, Meghan (Chris) Do of Orlando, FL., Katelyn Kriesel (Tyrell Burke) of Syracuse; his brother, Gregory Kriesel of Manlius; maternal grandparents, Mary Ann Holihan of Syracuse and David J. Holihan of Tully; a niece, Alianna Burke; a nephew, James Do; many aunts, uncles, cousins and friends.
Mass of Christian burial: 10 a.m. Friday, Jan. 11 in Immaculate Conception Church, 400 Salt Springs St., Fayetteville. Interment St. Mary's Cemetery, Dewitt. Calling hours: 3 to 7 p.m. Thursday, Jan. 10 at the church. In lieu of flowers, donations can be made to: National Wildlife Federation, PO Box 1583, Merrifield, VA 22116-1583.