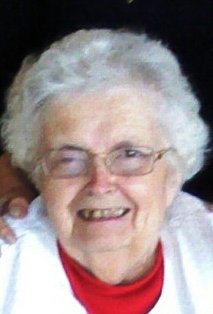 Eugenia M. Prentice
unknown - January 1, 2013
Eugenia M. Prentice, 86, of Baldwinsville passed away peacefully Tuesday, Jan. 1, 2013, in Syracuse. She was born March 2, 1926, in Warsaw, N.Y., daughter of the late Milo and Dorothy Elwell Davis Collins. A graduate of Bliss High School, Jean worked as a cafeteria cashier and day care provider, as well as a dedicated homemaker.
She enjoyed crocheting, puzzle books and attending her grandchildren's various activities. She was a member of Liverpool First United Methodist Church.
Jean was predeceased by her husband, J. Arthur Prentice; a sister, Evelyn Davis; a step-father, Millard Collins; and a granddaughter, Erin DeFelice.
Survivors include 2 daughters, Susanne (George) Prentice Blondin of Carthage, NY and Luanne (Paul) Prentice DeFelice of Baldwinsville, NY; a sister, Wilma Ann (Gene) Collins Hill of Roanoke, TX; 5 grandchildren, Cherise Blondin Haase, Belfast, NY, William Blondin, Magnolia, TX, Michael DeFelice, Buffalo, NY, Andrea DeFelice, Baldwinsville, NY and Mary DeFelice, Anchorage, AK; 8 great-grandchildren, Alex, Aaron, and Abigail Haase, Victoria, Brandon, Lily, and Finley Blondin, and Ryan McCoy, as well as cousins, nieces and a nephew.
Funeral service: noon Saturday, Jan. 5 at the Weeks Funeral Home 123 N. Main St, Warsaw. Burial will follow at Wethersfield Springs Cemetery, Wethersfield. Please visit weeksfuneral.com to offer online condolences. In lieu of flowers, donations may be made to Cri du Chat Family Support and Educational Initiatives a 501C3 not for profit corp. Checks payable to: Treasurer, 5P-Society, PO Box 268, Lakewood, CA 90714-0268 or charity of choice.