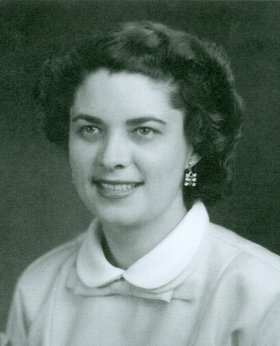 Mary Ann Coppola
unknown - December 18, 2012
Mary Ann Kamler Coppola, 88, of Fayetteville, passed away peacefully on Dec. 18, 2012. She was born in Olean, N.Y., on March 30, 1924 and resided in Fayetteville since 1957. Mary Ann graduated in 1941 from Olean High School as a member of the National Honor Society and graduated from E.J. Meyer Memorial Hospital in Buffalo in 1944 as a registered nurse. She married Patrick P. Coppola in Olean on July 12, 1944. In addition to being a wife and mother, Mary Ann was a volunteer for charitable functions, worked periodically as a nurse and participated in Harvard University's Nurses' Health Study for over 30 years. She was a communicant of Immaculate Conception Church in Fayetteville.
Mary Ann is predeceased by her husband Patrick, her parents Harry and Alice Kamler, her infant son William, an infant sister Clare, her sister Barbara Donovan and a brother Vincent.
She is survived by a sister, Monica (Don) Johnson of Eldred, PA; a brother, Anthony of Circleville, OH; her sons, John (Jane) of Morrison, CO, Richard (Pamela) of Manlius, NY, Thomas (Bernice) of Sarasota, FL, Alan (Tena) of Chino, CA and daughter, Kathleen (Jerry) Holder of Yorba Linda, CA. Patrick and Mary Ann have eleven grandchildren and five great-grandchildren.
Mass of Christian burial: 10 a.m. Saturday, Jan. 5, at Immaculate Conception Church, 400 Salt Springs St., Fayetteville. Calling hours: 5 to 7 p.m. Friday, Jan. 4 at Eaton-Tubbs Fayetteville Chapel, 7191 E. Genesee St., Fayetteville. For directions, florists, or a guestbook, please visit scheppfamily.com. Contributions: May be made to the Susan G. Komen Breast Cancer Foundation, 5008 Brittonfield Parkway, Suite 300, East Syarcuse, NY 13057 or to Hospice of CNY, 990 Seventh North St., Liverpool, NY 13088.