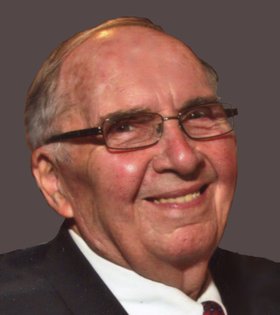 Thomas L. Ingham
unknown - February 20, 2013
Thomas L. Ingham, 89, of Baldwinsville and Murray Isle, Thousand Islands, N.Y., went home to be with the Lord on Wednesday, Feb. 20, 2013, where he was reunited with his wife, Doris after a long illness. He was born on Aug. 9, 1923, to the late Thomas and Edith (Daggett) Ingham in Vine Valley, N.Y. His wife of 65 years, Doris Jones Ingham passed away on Aug. 16, 2012. Thomas was a devoted husband, father, grandfather, great-grandfather and friend.
Thomas was a WWII veteran of the U.S. Air Force. He was a member of the First Baptist Church of Baldwinsville for 50 years serving many of those years on the board of trustees and finance committee. He was a loving and generous person who volunteered at the Syracuse Home and Meals on Wheels. Thomas retired with a distinguished career from Gulf Oil Corp in 1982.
Thomas is survived by his children, Cathy L. (Dr. Lawrence) Peltz of Santa Rosa, California, Pamela J. (Dr. Douglas) Cooper of Angwin, California, Nancy I. (Jason) White of Baldwinsville, N.Y. and Cynthia A. (Len) Woods of Baldwinsville, N.Y; eight grandchildren, Jennifer (Bill) Barrois, Dr. Aaron (Laura) Peltz, Cory Peltz, Vanessa Cooper, Danny Cooper, Kathryn Hess, Sean (Alison) Woods and Taylor Woods; four great-grandchildren, Shelby Barrois, Evan Peltz, Lily Peltz and Owen Woods; his brother, Richard E. Ingham; and many nieces, nephews and cousins. His parents; a sister, Josephine Ingham; and sister Leona I. Seth precede him in death.
The family would like to thank all the caregivers for the time, attention and love given to Thomas. Many thanks, as well, to the caring and loving neighbors and friends at McHarrie Towne.
A private committal grave-side service for family and friends will be held in Riverview Cemetery in the spring. Donations may be made to the First Baptist Church, Memorial Fund, 22 Syracuse St., Baldwinsville, N.Y. 13027 or Hospice of CNY.