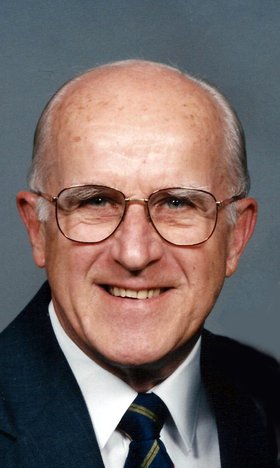 Edward J. Weiss
unknown - February 14, 2013
Edward J. Weiss, 90, of Camillus, passed away Thursday, Feb. 14, 2013 at his home. Born in Buffalo on Monday, Sept. 18, 1922, he was the son of the late John and Rose (Grabowski) Weiss.
Edward was predeceased by his beloved wife of 52 years, the former Kathleen Davison, in 2000.
He was also predeceased by his sisters, Ruth Fudalik and Clair Weiss.
Surviving are his daughter and son-in-law, Cheryl and Nick DiCostanzo of Rye Brook; sons and daughters-in-law, Ronald and Lynn Weiss of Clarence, Gary and Carol Weiss and James Weiss, all of Manlius; 14 grandchildren; and three nephews.
Edward received a Bachelor of Science degree in electrical engineering at the University of Buffalo. He had lived in Camillus since 1971 and retired in 1985 as an engineering manager for Niagara Mohawk, after 34 years. He was a senior member of the Institute of Electrical and Electronic Engineers and a committee member of the Northeast Power Coordinating Council and of the New York Power Pool.
Edward was a four-year Marine Corps veteran of WWII. A communicant of Holy Family Church, he was a member of its Holy Name Society, Nocturnal Adoration Society, and the Bereavement Luncheon Committee. He served as a pastoral care minister for the church and at the St. Camillus Health and Rehabilitation Center.
Relatives and friends called from 3 to 7 p.m. Monday, Feb. 18, at the Buranich Funeral Home, 5431 W. Genesee St., Camillus. Services were at 9:15 a.m. Tuesday, Feb. 19, at the funeral home and 10 a.m. in Holy Family Church where a mass of Christian burial was celebrated with Rev. Richard P. Prior, Jr., and Deacon Nick Alvaro officiating. Edward was laid to rest in St. Mary's Cemetery, DeWitt. In lieu of flowers, contributions may be made to the Holy Family Church Capital Campaign, 127 Chapel Dr., Syracuse, NY 13219. Please view the Weiss Family Video Tribute and share condolences at buranichfuneralhome.com.