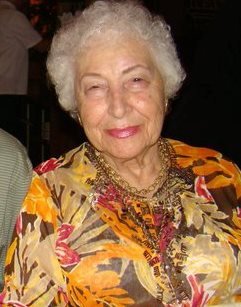 Carrie Bernard
unknown - February 19, 2013
Carrie Bernard, of East Syracuse, passed away on Tuesday, Feb. 19, 2013. She was one of the original "Rosie the Riveters" having produced guns during WWII. Carrie worked for GE for 26 years. She enjoyed cooking for her family.
Survivors: her daughter Nancy (Gerald) Ballard; her companion, George Przemieniecki; grandchildren, Gerald Ballard Jr., Michael (Marsha) Ballard, Mark (Carmelina) Ballard; great-grandchildren, Katrina Ballard, Jenna Rose Ballard, Andrew Ballard, Desiree Ballard and John Michael Ballard; Brothers, Raymond Bernardo and George Bernardo as well as several nieces and nephews.
Calling hours: 10 a.m. to 1 p.m. on Saturday, Feb. 23 at R. H. Schepp & Son Minoa Chapel, 109 East Ave., Minoa. Arrangements by R. H. Schepp & Son Minoa Chapel of Schepp Family Funeral Homes. Contributions: Central NY SPCA, 5878 East Molloy Road, Syracuse, N.Y. 13211.