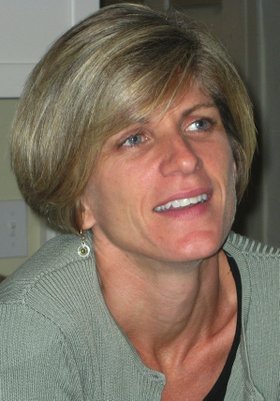 Amy Miller
unknown - February 1, 2013
Amy Crouch Miller, 45, of Lexington, MA passed away Friday, Feb. 1, 2013, surrounded by her family after a fearless battle with paraganglioma, a rare cancer with few treatment options. Beloved wife of Bradford Miller and loving mother of 10-year-old Eliza and seven-year-old Kira Miller; devoted daughter of Helen Crouch of Lexington; loving sister of Jean Ricci and her husband Robert of Lexington, Thomas Crouch and his wife Pamla of Erieville, N.Y., and Elizabeth Barrentine and her husband Curt of Lexington; caring aunt of eight nieces and four nephews.
Amy grew up in Cazenovia. Amy graduated from Cazenovia High School in 1985. She attended college in Massachusetts and graduated from Northeastern University with a degree in environmental toxicology. Amy worked as an environmental toxicologist for the engineering firm, Haley & Aldrich and most recently worked in acquisition integration for AMEC Earth and Environmental. Amy and Brad moved to Lexington in 1994.
Amy's enjoyment of soccer, running and the outdoors dated back to her school days. She shared her enthusiasm for sports and the outdoors with her daughters and husband. She coached Eliza's soccer team and was a dedicated runner. She competed in a number of half marathons, the Manchester Marathon in 2010 and ran the Reach the Beach Relay multiple times.
Amy loved life and in the last 18 months fought gracefully for every moment she had with her family and friends. A memorial service and a reception celebrating her life were held Feb. 16. Donations may be made in Amy's memory to The Children's Room, Arlington, MA (childrensroom.org), an organization that supports grieving children and families.