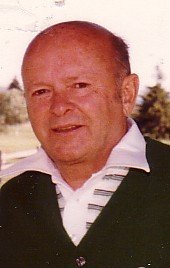 John S. Loss
unknown - February 14, 2013
John S. Loss, 93, of Skaneateles, died Thursday Feb. 14, 2013. Born in Skaneateles, the son of the late Harold and Gertrude Palmer Loss, he had retired from Pittsburgh Plate Glass Co. and was a graduate of Colgate University. He was a U.S. Army veteran of WWII serving with the 866th Aviation Engineers in New Guinea and the southern Philippines. He was a member of the Robert J. Hydon American Legion Post 239 in Skaneateles, Skaneateles Country Club, and holds the 9 hole club record, shooting a 26 in 1955. He was predeceased by his wives Jean M. Loss and Betty Weeks Loss.
Surviving are his son John H. (Joyce) Loss of Canandaigua, a daughter Cynthia (Jeff) Nightingale of Evergreen, CO; and a sister Marjorie Loss Wild.
Services: Tuesday Feb. 19 at Burrows Chapel in Lake view Cemetery, Skaneateles. In lieu of flowers contributions may be made to Finger Lakes SPCA. To send condolences visit: robertdgrayfuneralhome.com.