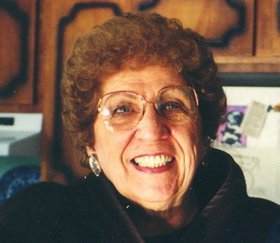 Geraldine M. Lepine
unknown - February 7, 2013
Geraldine M. Lepine, 87, of Cazenovia, passed away peacefully in the home of her daughter, Simone, on Feb. 7, 2013, with her children and grandchildren at her side.
She was born in Olean, N.Y., on Aug. 26, 1925, the daughter of the late Richard and Veronica Carls and a 1943 graduate of Allegheny High School. After high school she was employed by Clark Brothers' Drafting Department from 1944-1956. It was during this time she met and married Andre O.B.J. Lepine. They fell madly in love and were married on April 2, 1956. They moved to Cazenovia the year they were married and Andre began teaching agriculture at Cazenovia Central School District. In a simple house on Burr Street, they would build a wonderful life together as they raised their five children. Geraldine had many talents, but her life calling was to be a mother. She loved her children greatly and she opened her heart to anyone who needed a mother's love. Geraldine also was the ultimate optimist and had an unrelenting can-do spirit. At the age of 2, Geraldine contracted polio, but she never let the disability disable her. She developed her skills in gardening, writing poetry and creating art. If her mind could imagine it, she could make it whether it was a painting, a carving, sewing, or a combination of those things. Her folk-art Santa Claus attracted attention near and far. Today her artwork graces over a thousand homes all over the world. Geraldine also was able to apply her artistic eye to gardening. Her beautiful flower gardens were enjoyed greatly by her neighbors and anyone who passed by the house. She was greatly honored when she received the Cazenovia Garden Club Award in 1992. But her greatest talent was that she always could find beauty in every person she met and her quick wit would bring light and joy wherever she would go. She will be greatly missed, but she will always be remembered with a smile.
Geraldine was predeceased by her husband, Andre, in 1997. She survived by her five children, Lisa Lepine of Portland, Ore.; Michele (and David) VanWormer of Broadablin, N.Y.; Denise (and Patrick) Krohn of Amsterdam, N.Y.; Maurice Lepine of Syracuse and Simone Lepine of Fayetteville. She is also survived by her four grandchildren: Jake Krohn, Rolland Krohn, Veronique Krohn, and Andie VanWormer. She is also survived by her brother, James Carls, of Olean, and her beloved nieces and nephews.
A mass of Christian burial was held at 10:30 a.m. Thursday, Feb. 14, at St. James Church, 6 Green Street in Cazenovia. Calling hours were held from 4-7 p.m. on Wednesday, Feb. 13, at the Tait Funeral Home, Inc. 2333 Fenner Road Cazenovia. In lieu of flowers, contributions can be made to Home Aides of CNY or Francis House. To send an online condolence, please visit taitfuneralhome.com.