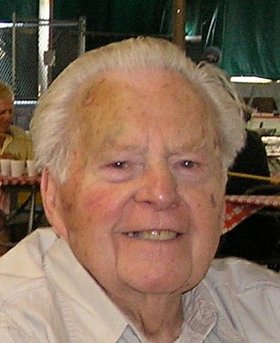 Frederick W. Lawton, Sr.
unknown - unknown
Frederick W. "Fred" Lawton, Sr., 93, Skaneateles, died Friday, Feb. 8, 2013, at St. Joseph's Hospital after a brief illness. He was born October 22, 1919.
Fred was a WWII U.S. Army Air Forces veteran and career master tool and diemaker, retired from Pass & Seymour / Le Grand. His interests included S.A.V.E.S., for which he generously volunteered his time in its formative years. He also was an avid NASCAR fan.
But most of all, Fred was a thoroughly devoted family man who greatly enjoyed his children, grandchildren and great-grandchildren. He was predeceased by his wife, Patricia McAvoy Lawton and son, Frederick W. Lawton, Jr.
Surviving are his sons Daniel, Timothy, and Peter, and daughters, Sharon Paddock, Judith Weaver and Amy Murphy, plus 11 grandchildren and 12 great-grandchildren.
Calling Hours: 4 to 6 p.m. Thursday, Feb. 14, at Robert D. Gray Funeral Home, 49 Jordan Street, Skaneateles. Services will be 10 a.m. Friday Feb. 15, at the funeral home. Burial will be at Belle Isle Cemetery at a future date.
Contributions in Fred's memory may be made to S.A.V.E.S., 77 Fennell Street, Skaneateles, NY 13152, saves911.com, or to Honor Flight Syracuse. P.O. Box 591, Syracuse, NY 13209 honorflightsyracuse.org. To send condolences visit robertdgrayfuneralhome.com.