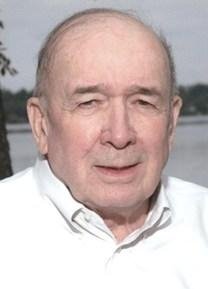 Richard E. DeLaney
unknown - February 9, 2013
Beloved husband, father, and uncle, Richard E. DeLaney, formerly of Oradell, NJ, died after a short illness on Feb. 9, 2013. Born and raised in Skaneateles, . the second of three sons born to William and Catharine DeLaney, "Dick" attended Skaneateles High School, where he lettered in basketball and baseball. Desiring to serve his country during WWII, he enlisted in the U.S. Army at the age of 17 and was stationed in Osaka, Japan, for two years at the rank of Private First Class. After being honorably discharged, he enrolled in St. Bonaventure University where he earned his B.A. in Philosophy. He moved to Ithaca, after accepting a position with Goodyear Tire Company. There he met and married his sweetheart, Mary Ruane, in 1955. Soon after, Dick joined the Federal Bureau of Investigation, where he was trained to be a special agent. His first assignment was to Chicago, IL. The family relocated to Bronx, N.Y., in 1958 when he was transferred to the bureau's New York Office. In 1967, Dick and family moved to Oradell, NJ, where they lived for 33 years.
After serving 27 years with the bureau, during which time he was awarded several commendations, he retired in 1981. Dick was very active in the community, especially with youth sports; he was a member of the Special Agents Club of the FBI, the Knights of Columbus, and the Veterans of Foreign Wars. Dick and Mary had three children (Daniel, Maureen, and Kathleen). The couple moved to San Antonio, Texas, in 2001 where they lived together until Mary's death in 2007.
Dick is survived by his children, Daniel DeLaney and wife Diane of Sudbury, MA, daughters Maureen DeLaney of San Antonio and Kay DeLaney Berry and husband John of Garnet Valley, PA, as well as seven grandchildren, Mary Kathryn, Matthew, Charles, Daniel, Colleen, John Patrick, and Liam. He was predeceased by his brother, Bill DeLaney and survived by his brother, John DeLaney and wife Barbara of Chittenango, NY, brother in-law John Ruane and wife Kathy of Sparkill, NY, cousins, and fourteen nieces and nephews.
Visitation: 8:30 – 9:45 a.m. Saturday, Feb. 23, at Robert D. Gray Funeral Home, 49 Jordan St. Skaneateles. Funeral mass: 10 a.m. Saturday, Feb. 23, at St. Mary's of the Lake, Skaneateles, with burial following at St Mary's Cemetery. In lieu of flowers, please make memorial donations to: Franciscan Mission Associates, 274-280 West Lincoln Ave., Mt. Vernon, N.Y. 10551. Condolences may be offered at robertdgrayfuneralhome.com.