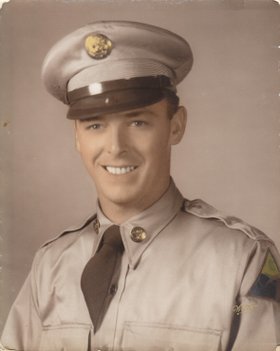 David McKie
unknown - February 12, 2013
David McKie, 84 of Liverpool, passed away on Tuesday, Feb. 12, 2013, at Iroquois Nursing Home. He was born in Ayrshire, Scotland where he was raised and educated. In his early 20s he came to Canada, living in Montreal where he married Nancy, a blessed union of 60 years. Together they came to the United States in 1953 and have resided in Liverpool for the past 44 years. Mr. McKie was a U.S. Army veteran serving in the Korean War. David retired as director of industrial engineering with the Carrier Corp. in Syracuse. In 1981, he founded McKie Sports, which his family continues to proudly operate. He was very active with Midstate Youth Hockey and Liverpool boosters. His true passion was golf.
Surviving to cherish his memory is his wife, Nancy of Liverpool, children; Dianne (Carl) Baskind of Boston, MA, David (Cathy) McKie of Manlius, Linda (Alan) Siegel of Cicero, Nancy Berryhill and her children's father, Mark of Palm Desert, CA, John (Kathy) McKie of Cicero, Mike McKie and fiancé Debbie Manobianco of Baldwinsville, 14 grandchildren; Julie, Melanie, David, Shayna, Cindy, Michael, Kyle, Matthew, Allie, Austin, Alyvia, Beau, Nessa, Mason, great-grandson, Cayden, and his sister, Jennie Fury of Scotland.
Calling hours: 1 to 4 p.m. Saturday, Feb. 16, from Maurer Funeral Home Moyers Corners 3541 Route 31, Baldwinsville. Funeral services: 10 a.m. on Sunday, Feb. 17 at the funeral home. The family would like to especially thank the fourth floor at Iroquois Nursing Home for the care and compassion shown towards David. In lieu of flowers, please consider contributions in his memory to the Alzheimer's Kirkpatrick Day Program, 441 W. Kirkpatrick St. Syracuse, NY 13204.