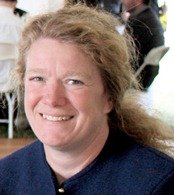 Therese Teitsch
unknown - January 24, 2013
Therese Francis Teitsch, 52, of East Brookfield, VT, died Jan. 24, 2013 after a gallant two-year fight against lung cancer.
She is survived by her husband, Gregg Despart; her parents, John and Anne Teitsch of Cazenovia; her brother, Mike (Mona) of Peterborough, NH; and her sisters, Jackie O'Keefe (Andrew) of Austin, TX; Bunny Bresemann of Cazenovia; Margy Mulvey of Fayetteville; Marian Sears (RE) and Sue Braun (Claude) of Cazenovia NY. She was predeceased by her brother, Jeff.
Born in Oneida, Terry was a powerhouse of action, seeking adventure, communing with nature and keeping tidy records of her activities. Being outdoors and doing physical activity were essential for Terry and running was a lifelong love.
Terry studied Animal Science at SUNY Delhi and at Cornell University where she completed her bachelor's degree. She earned a master's degree in biomedical engineering at Boston University. She spent a number of years as senior programmer at Dartmouth-Hitchcock Medical Center working on medical instrumentation.
In 1998, Terry bought a 100-acre farm in East Brookfield, VT. Since 2005, she and Gregg worked to re-build and improve the structures and land, raise goats, produce honey, syrup, fruits and vegetables—all the while forging friendships and gaining the admiration of many.
In 1999, Terry began working with the BioInformatics Service Center at the Geisel School of Medicine at Dartmouth. She became the lead bioinformaticist for the Colorectal Cancer Family Registry, established by the National Cancer Institute as a resource in conducting studies on the genetics and epidemiology of colon cancer. Terry's efforts supported the publication of hundreds of peer-reviewed papers and many advances in the understanding of colon cancer.
Terry's family would like to thank the staff of the Gifford Medical Center, Randolph, VT, especially the Palliative Care Team (Drs. Sandy Craig and Jonna Goulding, and nurse, John Young) for your kind and committed service. To send an online condolence, please visit taitfuneralhome.com.