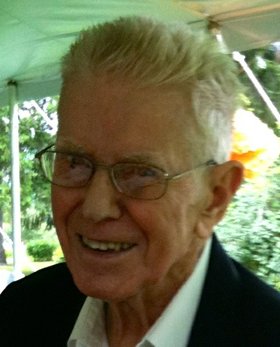 Oscar Pease
unknown - February 5, 2013
Oscar Pease passed away on Feb. 5, 2013. He was born in the middle of a February snowstorm in Manlius. His sisters in school down the hill knew that when the quilt appeared in the window of their family home, the baby had safely arrived.
Oscar started his working life helping on the family dairy farm. Once he was old enough, he could assist with deliveries. When he placed the bottles at the Daignault house he and his future wife would sneak glances at each other through that partially opened door.
Oscar served in the U.S. Army, 10th mountain division, ski patrol. When he returned from Europe, he and Irene married and moved to Ithaca, where Oscar attended Cornell University. He graduated with a degree in economics.
Oscar worked in mortgage banking with Marine Midland (now HSBC), becoming vice president of the mortgage department. After moving to Virginia he first worked with Dewey Robertson & Associates as a real estate appraiser and then became an assessor for the city of Roanoke. While in Virginia he earned his SRA designation in evaluation and assessment.
Oscar and his wife May (Irene) returned to New York in 2007. He lived at Wynwood of Manlius for several years then joined his wife at Chittenango Center in 2012.Oscar and his family truly appreciated the caring and kindness of the staff at both facilities. Bless you all for the good work you do for those in their later phases of life.
Oscar was a devoted husband and father and an exceptionally thoughtful and considerate person. He is survived by his daughter Lesley Pease (Roni Morgenstern); son Eric Pease; three grandchildren, three great-grandchildren, and many nieces and nephews.
In lieu of flowers, contributions in his name can be made to Helping Hounds. rescuehounds.com/donation_launch.html. Calling hours and informal time with family and friends: 3-7 p.m. Monday Feb. 11, 2013 at the Eaton-Tubbs Fayetteville Chapel. Burial will be private. Arrangements by Eaton-Tubbs Fayetteville Chapel of Schepp Family Funeral Homes.