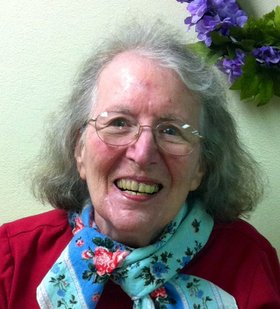 Irene Pease
unknown - February 1, 2013
Irene Pease passed away Feb. 1, 2013. She was born in the Chittenango area and lived in Manlius until moving to Salem VA where she and her husband Oscar lived for 30 years. She returned to Chittenango in 2007, taking up residence at Stonehedge Health and Rehabilitation, which later became Chittenango Center.
Irene was a talented and versatile artist and craftsperson. She created so many beautiful works in her lifetime, excelling at anything she put her mind to. She was awarded a scholarship to Skidmore to study art, but as it was wartime she was needed at home. Early jobs included Precision Castings and the soda fountain at Suburban Park.
Irene was a keen observer of the natural world, noticing things others missed. She was knowledgeable about wildlife, particularly birds. She was a talented baker and cook who made everything from scratch and, with her husband, grew most of the vegetables that fed the family year round. She made amazing birthday cake constructions that delighted her children.
Irene displayed and sold her stained glass art at several locations in the Roanoke area, under the name, "Irene of Salem."She and her husband were early members of the Roanoke Natural Foods Co-op.
While at Stonehedge, Irene (known there as May) spent many hours in the hallway near her room, greeting staff and other residents with her outreached hand and beautiful smile. Her family teased her about being the mayor of B Wing.
In 2012, Oscar joined her there and they were back together again for the last year of their lives.
May's family gives heartfelt thanks to the competent and caring staff of the Chittenango Center. Thank you for the kindnesses large and small, your attentiveness, the teasing and the many laughs.
May is survived by her daughter Lesley Pease (Roni Morgenstern); son Eric Pease; sister and best friend Lorraine LaPointe, brother Mike Daignault; three grandchildren, three great-grandchildren, and many nieces and nephews.
In lieu of flowers, contributions in her name can be made to the "Residents Council" at the Chittenango Center, 331 Russell St., Chittenango. Calling hours and informal time with family and friends: 3 to 7 p.m. Monday Feb. 11, at the Eaton-Tubbs Fayetteville Chapel. Burial will be private. Arrangements by Eaton-Tubbs Fayetteville Chapel of Schepp Family Funeral Homes.