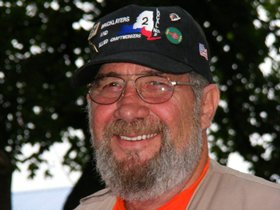 Victor Liberatore Jr.
unknown - January 30, 2013
Victor Liberatore Jr., 69, passed away Wednesday, Jan. 30, 2013, at Francis House surrounded by his family. He was a native and life resident of Syracuse. Victor was a Sergeant in the U.S. Marine Corps. during the Vietnam War with the Anti-Aircraft Missile Battalion. He was a retired Bricklayer with the BAC Local Union No. 2 for over 25 years. He was a member of the Liverpool Rod & Gun Club and an Assistant T'ai Chi Instructor with Achieve Balance T'ai Chi Academy. He is predeceased by his sister, Marion Colella and brothers, Carmen & John Liberatore.
Victor is survived by his spouse, Rita Liberatore of Solvay; a son, Victor J. Liberatore of Syracuse; a daughter, Tanya Di Pietro of Liverpool; sister, Serafina "Sally" Gridley of Cicero; and Victoria Loveall of Liverpool and five grandchildren, Brittney, Jacqueline, Sierra, Amber and Gage; and several nieces and nephews.
Calling hours: 4 to 7 p.m. Friday, Feb. 1, at the Maurer Funeral Home Moyers Corners. Funeral Services with military honors: 1 p.m. Saturday, Feb. 2 at the funeral home, 3541 Route 31, Baldwinsville, NY. Burial will be private. In lieu of flowers contributions may be made to the Francis House, 108 Michaels Ave., Syracuse, NY 13208.