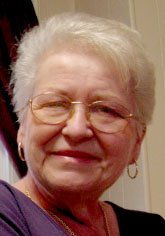 Jeanne E. Salerno
unknown - January 29, 2013
Jeanne E. (Burgess) Salerno, 68, formerly of 2920 Grant Blvd, died Tuesday, Jan. 29, 2013, at St. Joseph's Hospital. Jeanne grew up on the North side of Syracuse where she resided for most of her life before moving to Mattydale last year. She was a 1962 graduate of North High School and was the daughter of the late George and Lorraine Burgess.
Jeanne worked for 10 years in the food service/catering department of BlueCross BlueShield of CNY; prior to that she worked at Patrick's Cleaners for several years as a presser. She was an avid supporter of the Oneida Indian Nation.
Jeanne was predeceased by her sister, Judy.
Jeanne is survived by her husband of 46 years, Joseph Salerno; a son: Nick (Jessica) Salerno of Mattydale; two sisters: Jill (Mike) Gallagher of Solvay and Lois (Martin) Dorschel of North Syracuse; her two grandchildren: Chloe and Anthony; and several nieces and nephews.
Calling hours: 4 to 7 p.m. Thursday, Jan. 31 at Krueger Funeral Home, 2619 Brewerton Rd., Mattydale with funeral services following at 7 p.m.