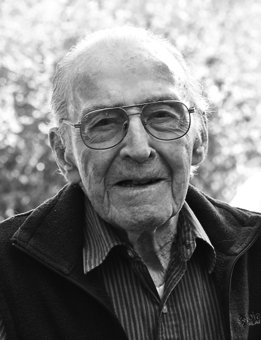 Clifford E. Feidt
unknown - January 29, 2013
Clifford E. Feidt, 93, passed away peacefully on January 29, 2013, at his home in Pennellville, where he lived since 1945. He was born in 1919 in Langford, N.Y., to Andrew and Julia (Dole) Feidt. As a young child his family moved to Cazenovia. At the age of 11, his father died. Cliff's great love of the outdoors was kindled while on his grandfather, Peter Feidt's farm in Cazenovia, where he spent countless hours. After high school, Cliff worked for Davey Tree Co. until an injury caused him to change his occupation. He apprenticed at Allen Tool Co. in Syracuse and worked there as a tool and die maker until his retirement. In 1942, he married Beatrice (Richardson) and moved to Pennellville, where they raised their children. In 1978, he and his son-in-law, John Nostrant, combined their adjacent lands to develop and run Arrowhead Cross Country Ski Area. Though his home was his haven and his focus was his family, his favorite away times were spent in Canada, where he, his son and his fishing buddies would fly into remote areas to trout fish. At the age of 75, Cliff and his lifelong high school friend, Theron (Bubb) Stafford, spent a month traveling in Alaska. That was a dream come true for both Cliff and Bubb. Cliff was a spiritual man with a strong religious faith. An avid reader, he began each day reading scripture. Cliff was predeceased by his wife, Beatrice in 1991. He was also predeceased by his brothers, William and Robert Feidt and sisters, Loraine Russell and Jean Hodge.
Survivors: his son, Theron C. Feidt of Pennellville; daughters, Naomi J. Wood and Phyllis J. Nostrant, both of Baldwinsville; 9 grandchildren; 19 great grandchildren; 10 great great grandchildren; and several nieces and nephews.
Calling hours: 1-3pm Sunday, Feb. 3 at Falardeau Funeral Home, Baldwinsville. Services: 11 a.m. Monday, Feb. 4 at the funeral home, 93 Downer St. Burial, Riverview Cemetery, Baldwinsville. In lieu of flowers, contributions may be made to a charity of one's choice.