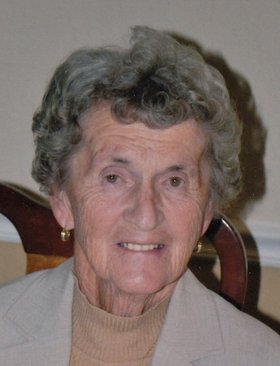 Mildred Gray
unknown - December 23, 2013
Mildred (Betty) Gray, 85, of Elbridge, passed away unexpectedly Monday, Dec. 23, 2013, at Upstate Medical Center. She was born in Auburn on Nov. 30, 1928, and was a life long resident of Elbridge.
Betty was a devout Catholic and member of the St. Patrick's Altar Rosary Society. She was a volunteer at Van Duyn for over 30 years. Betty loved to travel, golf, read, play cards and shop (for a good bargain). She was also an enthusiastic Syracuse University basketball fan. A devoted wife, she cherished her husband, children, grandchildren and great-grandchildren.
Betty was predeceased by her parents, John and Mildred Kellogg and her sister, Helen Swanberry.
Surviving are her loving husband of 64 years, Lawrence; daughters, Linda (John) Tam of Elbridge, Kathy
(Mike) Farrugia of Auburn, Mary (Don) Bard of Elbridge and Anne (Neal) Barrigar of Elbridge; sons, Larry (Janet) Gray of Alexandria, Virginia, Mike (Debbie) Gray of Lakeland, Florida and Patrick (Mindy) Gray of Skaneateles; sisters, Joan Chapman of Skaneateles and Mickey O'Neill of Venice, Florida; brother, John Kellogg of Marcellus; twenty grandchildren and six great-grandchildren.
Services were held Friday, Dec. 27, at St. Patrick's, Jordan. Burial was in St. Mary's Cemetery, Skaneateles.
In lieu of flowers, contributions may be made in Betty's memory to St. Patrick's Parish of Jordan.
To send condolences visit: robertdgrayfuneralhome.com.