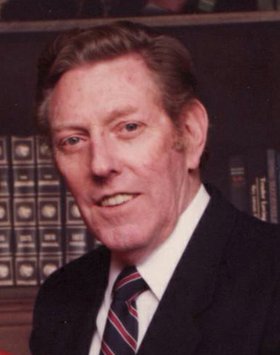 Kenneth Allison
unknown - December 21, 2013
Kenneth Alexander McDonald Allison, 86, of Fayetteville, passed away at home on Saturday, Dec. 21, 2013. A resident of the Syracuse area for 39 years, Kenneth was born on Dec. 13, 1927, to the late Flora (MacLeish) and Alexander Allison in Queens, N.Y. His parents, as well as his late siblings Hector and Elizabeth, were born in Scotland.
After holding technical, management and executive positions at New York Telephone and ITT Corporation, in 1974 he founded KAMA Communications, a Syracuse based interconnect company and later Tel-Systems Management, a resale long distance company with offices in the Northeast. He also worked as a telecommunications industry consultant for many years. Kenneth was a PFC flight line mechanic for the USMC, and as a young man he earned his private pilot's license and helped manage recording artists. He enjoyed promoting his entrepreneurial, innovative designs for everyday items and he was devoted to his family and friends.
Kenneth is survived by his wife, Alexandra Allison of Fayetteville; son, Glenn Allison and Kathy Allison of Palm Harbor, FL; daughter, Pamela Bonetti and George Bonetti of Phoenix, N.Y.; daughter, Jennifer Aumand and William Aumand, II of Chesapeake Beach, MD; son, Scott Allison and Dana Allison of Allen, TX and daughter, Heather Waters and Sterling Waters of Syracuse; along with grandchildren; step-grandchildren and a great-granddaughter: Sean, Allison, Ashley, Laura, Grant, Ryan, Taylor, Billy, Riley, Christina, Holly and Brynley; as well as beloved nieces and nephews and their families.
Graveside burial: 11 a.m. Jan. 3 at Maple Grove Cemetery in Kew Gardens, Queens, N.Y., with a gathering at The Center at Maple Grove Cemetery to follow. Contributions: Memorial gifts in lieu of flowers may be made to Hospice of Central New York: hospice.org. For a guest book, please visit: scheppfamily.com.