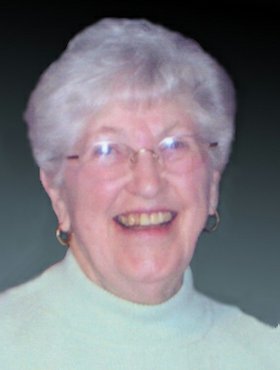 Alice L. Kelleher
unknown - December 23, 2013
Alice L. Kelleher, 93, of Camillus, passed away Monday, Dec. 23, 2013 at Iroquois Nursing Home. Born in New York City, she lived in Camillus for more than 50 years.
Alice retired in 1985 after 15 years with the Syracuse City School District. A communicant of St. Joseph's Church, she was actively involved with Eucharistic adoration. An avid golfer, she was a member of the Westhill Golf League. She also enjoyed cooking and spending time with her family, especially her grandchildren and great-grandchildren.
Alice was predeceased by her husband of 64 years, John in 2008 and sister, Virginia Wilson.
Surviving are her daughters, Mary Alice (John) Wylie and Susan Kelleher-Lynch, both of Camillus; sons, Jack (Kathleen) and Bill (Susan), both of Camillus, and Jerry (Julie) of Atlanta, GA; eight grandchildren; eight great-grandchildren; sister, Connie Mick of Milford, PA; and several nieces and nephews.
The family would like to thank the fourth floor staff at Iroquois for the loving care and compassion they provided to Alice .
Relatives and friends called from 2 to 4 p.m. Sunday, Dec. 29, at the Buranich Funeral Home, 5431 W. Genesee St., Camillus.
Services were at 10 a.m. Monday, Dec. 30 at the funeral home and 10:30 a.m. in St. Joseph's Church where a funeral mass was celebrated with Rev. Peter Worn and Deacon Nick Alvaro officiating. Alice was laid to rest in the Onondaga County Veterans Memorial Cemetery.
In lieu of flowers, contributions may be made to St. Joseph's Church Food Pantry, 5600 W. Genesee St., Camillus, NY 13031. Please view the Kelleher Family Video Tribute and share condolences at buranichfh.com.