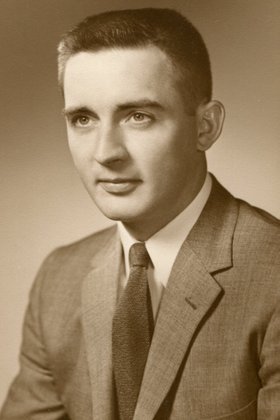 Joseph Hesler
unknown - December 16, 2013
Joseph Patrick Hesler, 85, of Liverpool, passed peacefully Dec. 16, 2013, at the Syracuse VA Medical Center on Monday, following a determined battle against Alzheimer's disease. Joseph was born and raised in Clayton, N.Y., the youngest of four children to Benjamin and Mary (Sullivan) Hesler.
Joseph enlisted in the Air Force in 1950 and proudly served three years in the Korean War. Following discharge, Joseph enrolled at Clarkson University in Potsdam where he earned a degree in electrical engineering and also met his wife of 55 years, Anne Morgan, also from Potsdam. They married in 1958 and moved to Liverpool, where Joseph worked at General Electric and Anne taught at Chestnut Hill Elementary School.
Joseph was employed for over 20 years at General Electric and authored several notable engineering patents. He subsequently became one of the establishing partners of Eagle Comtronics, LLC, where he would work until his retirement.
Joseph was a founding parishioner of Christ the King Church, where he served as Eucharistic Minister and also volunteered on various parish committees; notably, the St. Patrick's Day party and the parish picnic. Joseph was also an originating member and avid golfer at the Beaver Meadows Country Club, as well as a proud member of both the Phoenix and Clayton VFW and American Legions. Joseph loved music, especially 1940's-era swing, and enjoyed playing the clarinet and saxophone his entire life.
He is predeceased by an older brother William of West Chester, Pa and his beloved older sister, Mary LaRue, also from Clayton.
Joseph is survived by his beloved wife Anne of Liverpool, dear older brother Benjamin of Canastota, six children; Grace Anne McClure of North Branford, Ct, Mark (Sandy) of Fayetteville, John of Liverpool, Patrick (Kerry) of Ramsey, NJ, Christopher (Marjie) of Minneapolis, MN and Mary Elizabeth Hesler of Oswego, six loving granddaughters; Brynn Elise and Nina Lauren McClure; Amelia Elise , Maura Lynn, Shyanne, and Paige Morgan Hesler, and several nieces and nephews.
Calling hours: 3 to 6 p.m. Friday, Dec. 20, at Maurer Funeral Home, 300 Second St., Liverpool. Funeral services : 10:15 a.m. on Saturday, Dec. 21, from the funeral home and 11 a.m. in Christ the King Church, 21 Cherry Tree Circle in Bayberry with a mass of Christian burial celebrated and rite of committal and burial following in Our Lady of Peace Cemetery, Baldwinsville. In lieu of flowers, donations may be submitted in Joseph's name to the Alzheimer's Association at alz.org.