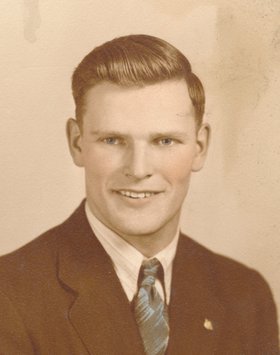 Erwin Hulbert
unknown - December 16, 2013
Erwin J. Hulbert, 86, of Plainville, passed away Monday, Dec. 16, 2013, with his family by his side. He was born in the town Of Lysander and lived in Plainville most of his life. Erwin was a retired employee of New Process Gear after 38 years of service. He was a U.S. Navy veteran of WWII and was a member of the VFW Post 153 and the American Legion Post 113. An avid outdoorsman, he was a member of the Weedsport Rod and Gun Club and was also a racing enthusiast. Erwin is predeceased by his wife, Wilma in 1997.
Survivors: his children, James (Colleen) Hulbert, Franklin Hulbert, Steven (Jacqueline) Hulbert, Linda (Richard Burrows) Hulbert, Cynthia Bell, Nancy (Jeff) Blackburn, Lori Hulbert and Terri (Phil) Marsden; 13 grandchildren; many great grandchildren, nieces and nephews.
Services: 4 p.m. Saturday, Dec. 21, at Falardeau Funeral Home, Baldwinsville. Spring burial in Plainville Cemetery. Calling hours: 1-4 p.m. Saturday prior to the service at the funeral home, 93 Downer Street.
Contributions: In lieu of flowers to the Plainville Volunteer Fire Department.